June 5, 2017 - 1:45pm
New Genesee Regional College Fair brings opportunity directly to area students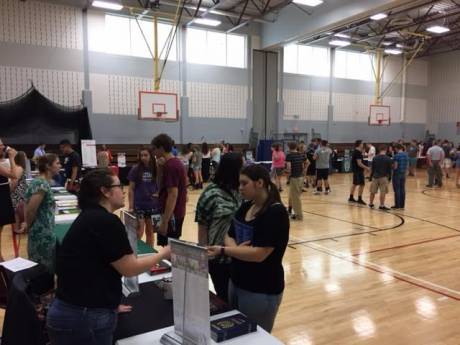 Byron-Bergen Jr./Sr. High School hosted more than 30 colleges and organizations at the Genesee Regional College Fair for area students in grades nine through 11.
Submitted photo and press release:
With the help of the New York State Association for College Admissions Counseling (NYSACAC), Byron-Bergen Jr./Sr. High School hosted more than 30 colleges and universities on May 18 for the new Genesee Regional College Fair.
The school's gymnasium was filled with students from grades nine through 11 from Byron-Bergen, Oakfield-Alabama Middle-High School, Rochester Preparatory High School, Keshequa Middle-High School, and the Western New York Tech Academy. Colleges traveled to the event from all over New York State, and from as far away as the University of Alabama, University of Guelph in Canada, and Quinnipiac University in Connecticut.
"Our goal is to host this event every year and continue to expose students to all of the opportunities that exist after high school," said Byron-Bergen College and Career counselor Rob Kaercher. "I know it is a busy time of year for colleges and high schools, but it would be impossible to host a large event without the support of every employee at Byron-Bergen and the NYSACAC.
"They are instrumental in providing professional development opportunities for school counselors and college admissions professionals from across the state, as well as opportunities for many college-bound students."
Many area high school students attend the NYSACAC college fair in March at the Rochester Convention Center and in Buffalo at the First Niagara Center. Now, the Genesee Regional College Fair will give students exposure to colleges in a more intimate setting, right in their own backyard.
"Next year we plan to have even more colleges and branches of the armed services, and we will invite more high schools to experience this event," Kaercher said.
The following colleges and organizations attended the NYSACAC Regional College Fair at Byron-Bergen: Albany College of Pharmacy and Health Sciences, Canisius College, Daemen College, Elmira College, Genesee Community College, Hartwick College, Ithaca College, Jamestown Community College, Keuka College, La Roche College, Le Moyne College, Monroe Community College, Morrisville State College, New York State Higher Education Services Corp, Niagara University, Mercyhurst University, Quinnipiac University, Roberts Wesleyan College, Rochester Institute of Technology, St. John Fisher College, SUNY - Alfred State College, SUNY Brockport, SUNY - Buffalo State College, SUNY Cobleskill, SUNY Delhi, SUNY Geneseo, SUNY Plattsburgh, SUNY Polytechnic Institute, The University of Alabama, University of Guelph, University of Rochester, the Army, and Wells College.