March 13, 2016 - 6:07pm
Notre Dame, Alexander and Pembroke high school students awarded scholarships at ARC 50th gala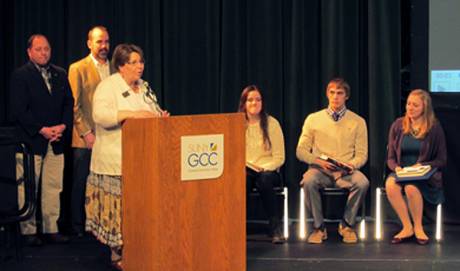 (Submitted photo.)
Courtesy of our news partner WBTA:
The Genesee ARC awarded $1,000 scholarships on Saturday to each of three local students planning to pursue a career in the field of developmental disabilities.
Receiving the scholarships were: (seated on stage from left) Michelle Martinucci, Notre Dame High School; Hunter Marzlof, Alexander High School; and Alison Reiner, Pembroke High School.
The scholarships are named in memory of Mary Anne Graney, parent, educator, advocate and friend of the ARC. The scholarships are funded through the annual Mary Anne Graney Friends & Family 5K run.
Presenting the scholarships on Saturday were: Ted Graney, Mary Anne's son, NYS Assemblyman Steve Hawley and ARC Executive Director Donna Saskowski.