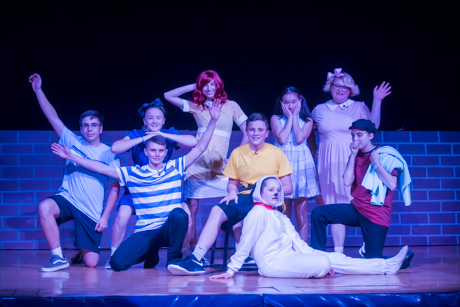 Students at Notre Dame High School will perform "You're a Good Man, Charlie Brown" in the auditorium at 7:30 p.m. on Friday, Nov. 22, and at 12:30 and 7:30 p.m. on Saturday, Nov. 23.
Tickets available at the door for $8 each.
The high school is located at 73 Union St. in the City of Batavia.
"You're a Good Man, Charlie Brown" is a 1967 musical comedy based on the characters of the beloved comic strip "Peanuts" by Charles M. Schulz.
Joseph Condoluci is Notre Dame's Instrumental / Vocal Music teacher.
Here's the Notre Dame cast list:
Charlie Brown -- Owen Mileham
Snoopy -- Grace Mileham
Lucy -- Judah MacDonald
Linus -- Amanda Bergman
Schroeder -- Nathaneal Brew
Sally -- Lily Gaylord
Ensemble -- Justice Yorkowsk, Marylin Kruppa, Amanda Doan
Photos by Howard Owens.