July 14, 2016 - 12:20pm
O-AT-KA celebrates opening of new material handling facility at Batavia plant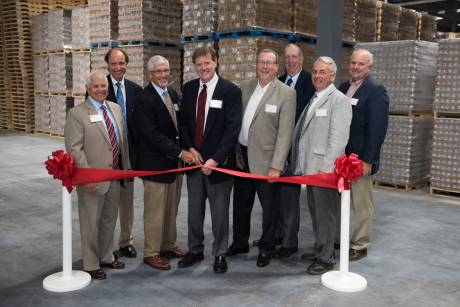 Pictured at the ribbon-cutting ceremony are, back from left: Mark Niederpruem, Warehouse manager; Dan Wolf, chairman of Upstate Niagara Cooperative, Inc.; Dave Nutting, VIP Structures; Front from left: Paul Battaglia, chairman of Genesee County Economic Development Center; Bill Schreiber, CEO; Michael Patterson, CFO; Larry Webster, CEO Upstate Niagara Cooperative, Inc.; and John Gould, chairman of O-AT-KA.
Submitted photos and press release:
O-AT-KA Milk Products is pleased to announce that it held a ribbon-cutting ceremony for its newly expanded warehousing storage and material handling facility in Batavia on July 11.
In attendance were O-AT-KA's and Upstate Niagara Cooperative's Board of Directors; key vendors and contractors for the project; banking representatives; local business leaders and invited guests.
"Project Rubicon affords O-AT-KA the opportunity to address three key focus points of our business; namely, employee safety, product quality and operational efficiencies," said Michael Patterson, O-AT-KA's chief financial officer. "The viability of the project was supported via our strong relationships with the community, the municipalities and our key vendors and stakeholders."
O-AT-KA's commitment to innovation is demonstrated within the expansion which added over 235,000 square feet to its Batavia plant. A second phase of the project has been initiated to capture efficiencies and optimize material handling equipment and processes. The new facility and equipment phase of the project allows the company to meet increasing customer demand, improve global competitiveness and allow for future growth of production capabilities. The project will significantly improve upon O-AT-KA's already high standards of safety and quality.
"The implementation of Rubicon will advance our ability to serve customers, significantly improve our competitive position and is testimony to the vision and commitment of our farmer owners," said Chief Executive Officer Bill Schreiber.
Founded in 1959, O-AT-KA is a manufacturer and co-packer of dairy-based products and ready-to-drink shelf stable beverages and is one of Genesee County's largest employers. It is located at the corner of Cedar and Ellicott streets.