July 7, 2018 - 3:00pm
Octogenarian golfer gets a hole-in-one at Terry Hills, the third of her lifetime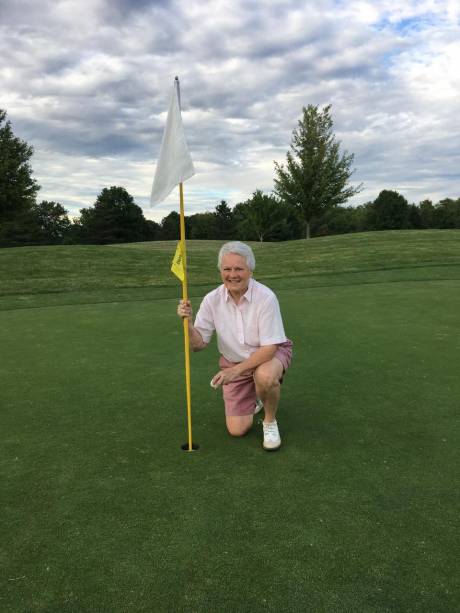 Submitted photo of Batavia resident and ardent local golfer Carolynn Taylor.
It's been hot lately and this past week was especially sweltering. Most octogenarians sensibly parked themselves near thrumming air conditioners and waited for things to cool down.
But not 81-year-old Carolynn Taylor. In fact, the Batavia resident played golf, her favorite sport, last Monday, Tuesday and Thursday.
Granted it was evening time when she did so, but it was still very uncomfortable for many people half her age.
Such is her athleticism and conditioning from regularly hitting the links for more than 60 years.
Taylor plays to win and the three other "girls" in her foursome do that a lot in local tournaments.
Her estimated handicap nowadays is 26.
She came to our attention a week ago when a couple of her friends told us about her recent hole-in-one. We called and confirmed this with her Friday afternoon.
"I was just shocked," she said. "You have to have a good shot, but the rest of it is just luck."
It was actually the third time she's been that lucky. In addition to the hole-in-one on #12 at Terry Hills two weeks ago, she got one on #22 two years ago, also at Terry Hills, and another in Wellsboro, Pa., several years ago at the Tyoga Country Club.
According to the U.S. Golf Association, the odds of the average golfer hitting a hole-in-one are 12,500 to 1.
Asked what she got for her latest feat, she said "Nothing. I got to buy everybody a drink!"
Terry Hills, the 27-hole, 72-par championship public golf course on former farmland on Clinton Street Road, is her favorite.
"It's spectacular," she said. "They take such good care of the landscaping and the greens. You never see any weeds."
Taylor plays in three women's leagues there. She also regularly participates in a trio of local tournaments for charity: Ricky Palermo's Golf Tournament to Cure Paralysis; Genesee Cancer Assistance Golf & Bocce Tournament; and the Leadership Genesee Golf & Bocce Tournament.
She says her foursome has won the women's division in the Ricky Palermo outing every year for several years.
If you are competing against them, that sinking feeling must sink in pretty quickly.