November 4, 2018 - 6:11pm
Parsonage lost in late-morning blaze on Rose Road, but no one was injured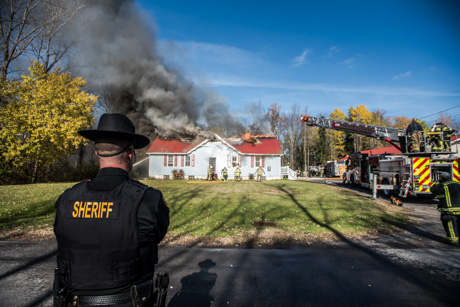 A fire that is thought to have started on the west side of the home destroyed a parsonage at 4131 Rose Road in Batavia late this morning.
"We lost our parsonage," said Faith Community Chapel Pastor Henry Pokrywa. "Firefighters responded promptly. Nobody was inside. The dog got out and they're still looking for the cat."
Retired Faith chapel Pastor Gene Demay and his wife, Rena, lived at the church-owned property with their pets.
They were at the chapel next door when the fire broke out and a passerby saw flames coming from the structure and called the Emergency Dispatch Center.
Town of Batavia Deputy Fire Chief Robert Tripp said they secured the natural gas line when they arrived on scene and waited for apparatus to arrive. They had difficulty accessing the origins of the fire because the house has a metal roof on top of asphalt shingles.
Tripp said they were able to send a crew inside initially, but then the interior became fully involved and a partial collapse of the roof on the south side made staying inside too dangerous so the crew was called outside.
At that point, until they could cut through the roof, the only points to fight the fire were windows and where venting occurred. Extensive overhaul will need to be done to ensure it's out and there's no rekindle.
"Don't put a metal roof over asphalt shingles," Tripp said. "Have one (kind of roof) or the other. Our saws are prepared for one style or the other. We have to switch out the blades to cut through both," which takes precious time to do.
"No one was injured, thank God," said Pastor Pokrywa. "We thank everybody for their prayers and we thank the firefighters and first responders."
Pokrywa added that the well-being of retirees Gene and Rena Demay "will be taken care of."
Once the fire was out, firefighters searched the flooded basement for the cat and found it alive. After getting a bit of oxygen, the cat was taken to a local vet for further examination.
Asked if the parsonage is a total loss, Deputy Chief Tripp said they have been unable to get inside yet to make that determination. There is significant smoke and fire -- not water -- damage to the first floor.
Firefighters responded with mutual aid from Le Roy, Alexander, and Stafford. Also responding were the American Red Cross, Mercy medics and Genesee County Sheriff's deputies.
Howard Owens was at the scene and contributed to this report. Photos by Howard Owens.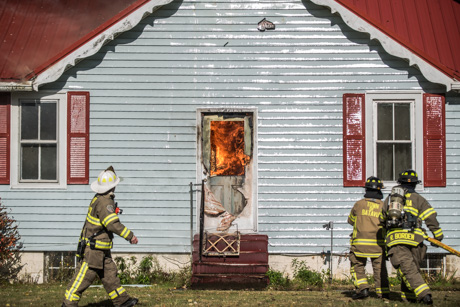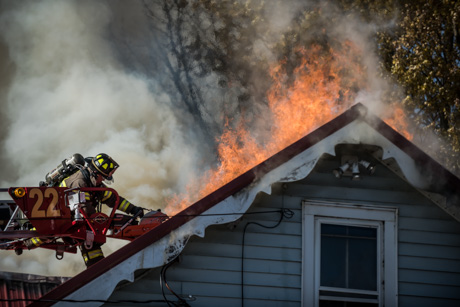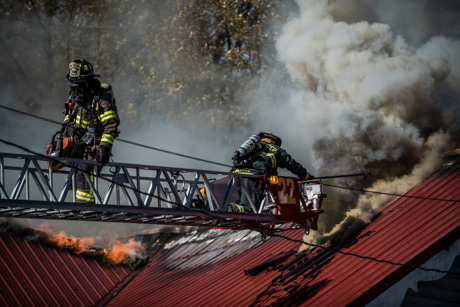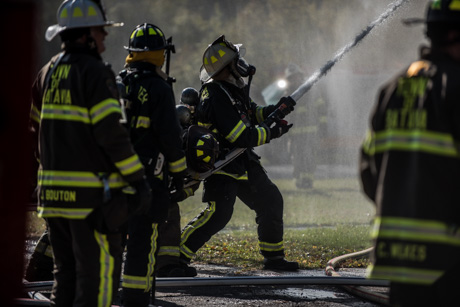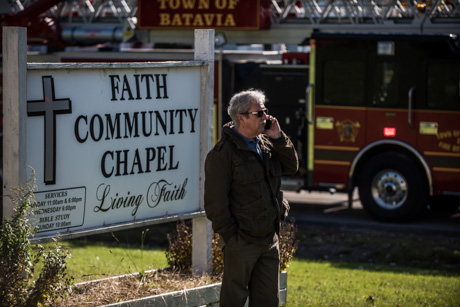 Pastor Henry Pokrywa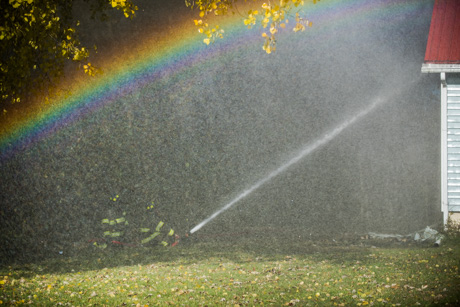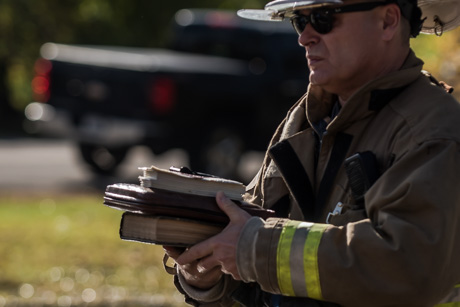 Tim Yaeger, the county's emergency management coordinator, carries books that were recovered by interior firefighters after the fire was out. These were the first items removed from the house. Several items were removed, including what looked like family photos that probably sustained water and smoke damage but appeared unburned.