June 25, 2013 - 1:47pm
Police respond to hostage situation on Highland Park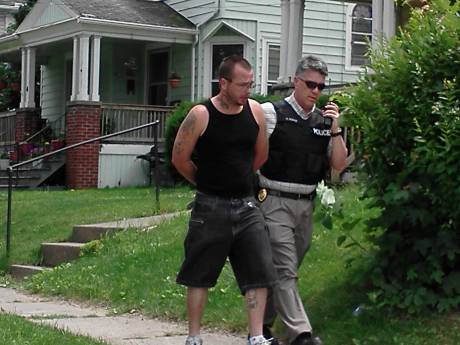 Batavia Police, detectives, Sheriff's deputies, medics and firefighters responded to a hostage situation on Highland Park about a half hour ago. Four people are now in custody. No one else is believed to be inside the lower apartment where the incident took place.
The first report indicated a person reportedly entered an apartment with a baseball bat and subesquently police shut down traffic at Pringle Avenue and Highland Park, and at Jackson Street and Highland, as well as Central Avenue.
UPDATE 2:25 p.m.: The perimeter is being opened. However, pedestrians and bystanders are still being kept at bay for the time being. Mercy medics are back in service.
Photo courtesy of WBTA
More T/K
June 25, 2013 - 2:30pm
#1
"Batter U-U-U-PPP!"
" 'Catcher' Down-n-n-n!"
"Somebody call 9-1-1"
Hey, it's the New America's favorite pasttime.