April 10, 2013 - 4:28pm
Possible structure fire at 33 Ross St. in the city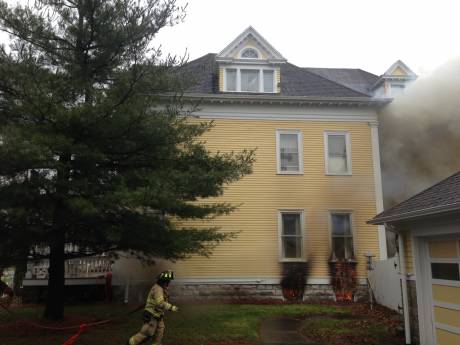 A possible structure fire is reported at 33 Ross St. in the city. The fourth platoon is called into headquarters and city firefighters are on scene. National Grid is called.
UPDATE 4:29 p.m.: The fourth platoon is now called to the scene along with the second platoon.
UPDATE 4:30 p.m.: This is a working structure fire. Occupants are out of the house.
UPDATE 4:31 p.m.: The Town of Batavia Fire Department is placed on standby. You can smell the smoke Downtown.
UPDATE 4:33 p.m.: Elba Rescue and Alexander's Fast Team are called to provide mutual aid and the city's third platoon is requested as well. Firefighters are still trying to gain access to the basement, which is where the blaze began.
UPDATE 4:36 p.m.: Ross at Main Street will be completely shut down to traffic.
UPDATE 4:38 p.m.: Flames are showing at the north side of the basement.
UPDATE 4:46 p.m.: Two Mercy ambulances are called to stage at the scene. Entry has been made to the basement.
UPDATE 4:52 p.m.: National Grid has shut off power at the house. Ladders will be employed on all four sides of the house.
UPDATE 4:59 p.m.: Howard, who is at the scene, said the commander reports they "are starting to get a handle" on the fire.
UPDATE 5:12 p.m.: The fire is out in the basement.
UPDATE 5:29 p.m.: Now the basement is clear, too.
UPDATE 5:32 p.m.: The house is owned by Dr. David Paul. It is a historic structure and previously received an award from the Genesee County Landmark Society.
UPDATE 6:05 p.m.: There's only a small amount of smoke coming from the house at this point. Firefighters are going to use hand tools to open up the attic. A company is called to board up the house.
UPDATE 6:10 p.m.: Command reports the fire is under control.
UPDATE 6:36 p.m.: Darien fire's Cascade System is requested. This is portable equipment used to refill backpack oxygen air canisters.
UPDATE 8:39 p.m.: City Ladder 15 and Engine 11 are returning to quarters. Mutual aid responders have gone back into service with the exception of Town of Batavia's standby unit, which will be released momentarily when the city's crews return to the fire hall. City Engine 12 will remain on scene to finish up the detail.
April 10, 2013 - 5:10pm
#1
It was just on Channel 2, Buffalo
April 10, 2013 - 9:40pm
#2
Howard, the cascade fills the packs tanks with air. Oxygen would really make going interior interesting....for a short period anyway.
Also, is this the only photo's from the scene? Interested to see more.
April 10, 2013 - 10:12pm
#3
Matt, I'll let Billie know.
As far as photos, I was at the scene until 6:40 and then there was a meeting to cover in Corfu. I just got home 10 minutes ago and post photos and a story as soon as I can.