October 28, 2015 - 4:09pm
School of Practical Nursing held ceremony earlier this month for 25 grads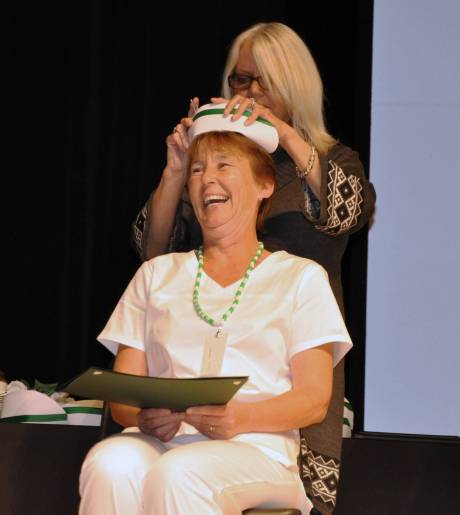 (Submitted photo: Kathy Coyne, LPN instructor, caps LPN Graduate Eileen Fugle.)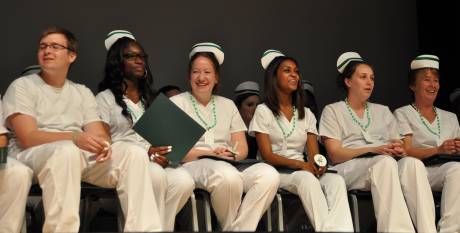 (Submitted photo: LPN graduates Brandon Hilyard, Ajanee Hill, Emma Greenman, Rima Gebrimariam, Amanda Gath and Eileen Fugle.)
Press release:
The Genesee Valley Educational Partnership's School of Practical Nursing celebrated its graduation Oct. 16 at Pavilion Central School. Twenty-five practical nursing graduates were capped and pinned during the ceremony. The majority of this high-ranking class achieved a 90 percent or above average.
These students completed the 12-month, 1,200-clock-hour program, which is certified by the New York State Education Department and designed to prepare graduates for the NCLEX-PN Examination for licensure.
Applications are currently being accepted for this 12-month program that is offered in three locations, Batavia, Greece and Leicester. All of the Adult Education Programs offered by the Partnership are eligible for GI bill ® funding for qualified applicants.
For more information about this program, contact the Adult Education/School of Practical Nursing at (585) 344-7788.
###
The Genesee Valley Educational Partnership offers a broad scope of adult education programs including a School of Practical Nursing and a Certified Nursing Assistant program, vocational training as well as classes for those seeking to broaden their skill sets. The Partnership operates as a Board of Cooperative Educational Services offering shared programs and services to 22 component school districts located in Genesee, Wyoming, Livingston and Steuben counties in New York state.