March 25, 2016 - 3:50pm
Sen. Schumer pledges to 'go to bat' for WNY dairy farmers in fight against new trade restrictions proposed by Canada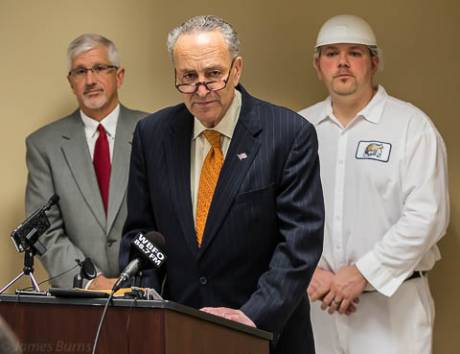 (Photos by Jim Burns.)
A Canadian proposal to reduce the amount of milk products imported from the United States, and to impose a tariff, could have perilous financial consequences for Western New York dairy farmers and cooperatives such as O-AT-KA in Batavia, which exports 20 percent of its goods to Canada annually.
At a press conference this morning in the plant's cafeteria off Cedar Street, Sen. Charles Schumer vowed to bring all his clout -- built over 18 years in the Senate -- to bear to stop the limitations being put forth by the nation's trade ministry in conjuction with its agriculture department under new government leadership.
Last year, U.S. dairies produced 200 billion pounds of milk; 85 percent of that was consumed by Americans and 15 percent was exported, said O-AT-KA CEO Bill Schreiber.
"Canada's trying to put in a new rule that would be devastating to O-AT-KA and Western New York," Schumer told the media, union employees, dairy farmers and local officials in attendance. "That ultra-filtered milk came in duty-free. Now they're trying to change that. ...  and the Province of Ontario wants to keep out (U.S.) dairy sales."
For O-AT-KA, the restrictions would amount to a loss of 180 million pounds of annual milk production -- which is 20 percent of $95 million in yearly sales, or $19 million, according to Schreiber. 
WIth more than 350 employees, the facility is one of the largest employers in the Genesee County. Upstate Niagara Cooperative, made up of nearly 400 dairies, is the majority owner of O-AT-KA.
WNY dairies are poised for growth, despite recent declines in milk pricing -- from $25 per hundredweight (the name of the commodity pricing unit) to $15 currently.
In 2012, O-AT-KA invested $16 million to build a new two-story addition to allow "ultra-filtration" capabilities in order to expand its product line and boost sales to other producers in the United States and abroad, especially Canada. Products include non-fat dry milk powder, buttermilk powder, whey powder, canned evaporated milk, butter, fluid condensed milk, iced coffee, nutritional beverages and other drinks. Ultra-filtered milk is used in cheese making.
Schumer said the recently proposed Canadian trade barriers could hinder plans for growth.
"We have good neighbors in Canada, but every so often something happens," the senator said. "This proposal would bring our mutual agreement to a screeching halt. It would put O-AT-KA and New York's dairy farmers in grave jeopardy. It would imperil the whole Upstate economy."
When asked "Is there really anything you can do?" if another nation, like Canada, implements a trade rule you don't like, Schumer replied: "Yes, a big leverage is tariffs. It's not a one-way street. It's not just exporting to Canada; we import from Canada, too."
It boils down to the fact that "we just have a stronger dairy industry and they're trying to build their's."
The rules, if implemented, would take effect in about six months.
"I'm here to go to bat for you," Schumer said. "I'm going to send a shot across the bough."
Schumer is calling on the U.S. Trade Representives and the USDA to work to protect U.S. dairy exports by ensuring that Canada doesn't impose restrictive trade rules and honors its commitment to open borders to Upstate New York farmers.
The proposal to limit U.S. dairy imports comes on the heels of the "Trans-Pacific Partnership," referred to commonly as TPP, being signed in New Zealand last month after seven years of negotiations. Besides New Zealand, it is made up of Canada and 10 other Pacific Rim countries, including the United States, Australia, Vietnam, Brunei, Singapore, Malaysia, Japan, Chile, Mexico and Peru. Ratification is anticipated over the next two years.
According to the Toronto Sun (Feb. 4. 2016), the pact could impact many industries in Canada, including agriculture, and some opponents fear it could hurt the economy and result in layoffs in some sectors. As part of the deal, Canadian dairy farms are slated to get $4.3 billion in subsidies from their government over a span of 15 years to offset losses from an increase in dairy imports from TPP trading partners.
Schumer made it clear that he opposes big trade agreements like TPP, just as he opposed and voted against NAFTA during the Clinton Administration.
Here's a copy of Schumer's letter to both the USTR and USDA:
Dear Ambassador Froman and Secretary Vilsack:
I write to you with strong concerns about reports that Canada is weighing policy and regulatory shifts that would undermine one of New York's most important export markets. Just a few years ago, two dairy companies made investments worth tens of millions of dollars in Upstate New York to produce ultra-filtered milk specifically for export to the Canadian cheese market. These sales are possible as a result of the duty-free access for this specific product that Canada agreed to under the North American Free Trade Agreement.
Recent reports indicate that Canada is considering administrative actions to limit Canadian companies' capacity to use this product in further processing and that Ontario is advancing a new, targeted pricing policy designed to crowd out New York's dairy sales. Further restraints on dairy trade are unacceptable, particularly coming on the heels of Canada's recent pledge to expand access to its tightly restricted dairy market under TPP. 
New York has made sizable investments in exporting into Canada under specific rules laid out by the Canadian government. Those sales now help support dairy farmers and rural communities across the state. New Canadian barriers to market access would have an outsized impact on New York's dairy sector. As the country's third largest milk producing state, a significant impact on New York's ability to tap into key foreign markets also will impact farmers in surrounding states in the Northeast and Mid-Atlantic region. Moreover, this latest example of dairy market-access restrictions appears to represent a continuation of persistent Canadian regulatory and policy shifts aimed directly at impeding dairy trade. 
We must hold Canada to its commitments and ensure that our exporters do not encounter barriers to the products they are already shipping to Canada. I urge you to strongly reject this and similar efforts to impair the value of concessions the U.S. previously secured under NAFTA. Thank you for your attention to this important priority with one of this country's largest trading partners.
Sincerely,
Charles E. Schumer
United States Senator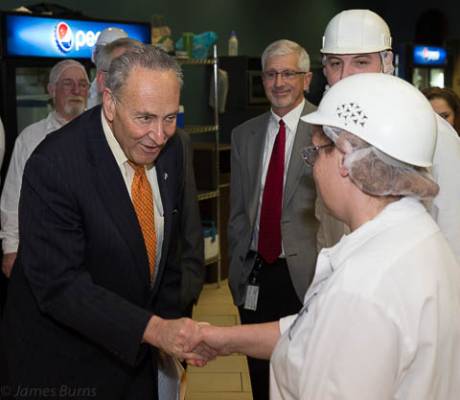 March 25, 2016 - 10:34pm
#1
Why do they dislike all the hormones etc. that is in our milk? Why on earth would they Canadians hate subsidizing something they can produce themselves? Shame on them for not relying on imports.
March 26, 2016 - 1:36am
#2
I kinda wonder how this will affect the sale of the former Muller Quaker Dairy to Dairy Farmers of America (DFA).
Will they need that extra manufacturing facility, should Canada succeed in their intentions?
March 28, 2016 - 6:14pm
#3
Alvin,
1. This isn't about hormones. If it were about hormones, this wouldn't affect O-AT-KA at all, they have been rBST-free for many years now.
2. The Canadian government is currently subsidizing their own dairy farms, and apparently are planning to do so even more heavily in the coming years. The Canadian citizen is also going to be subsidizing their dairy industry in the form of more expensive dairy products, because that is always the end result of tariffs and protectionist trade policy.
Also, as Senator Schumer points out, trade with Canada is not a one way street. For an agricultural example, the ethanol plant in Medina has been running primarily on Canadian corn for several months now and is scheduled to keep going that way for several more months. If Canada feels like blocking market access for US dairies, there's no incentive for the US not to do the same to their corn growers. Ahh, the joys of trade wars.