January 2, 2018 - 5:05pm
Skidster on fire inside barn on Norton Road, Elba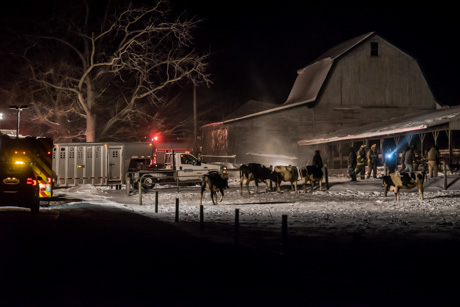 A skidster is reportedly on fire inside a barn at 7116 Norton Road, Elba. The barn is 75 feet from a house. Elba Fire Department is responding along with Byron. Stafford is requested to stand by in quarters. The location is between Ford and Edgerton roads.
UPDATE 5:08 p.m.: Fire police are requested to shut down traffic at Route 262 and Edgerton Road. Command at the scene tells responders to "take it easy coming in," due to road conditions.
UPDATE 5:23 p.m.: City Engine 11 and Town of Batavia Engine 24 are on scene, too. This is now a working barn fire.
UPDATE 5:28 p.m.: Fire police also requested for traffic control at the intersection of Edgerton and Norton roads, and at Batavia Elba Townline Road and Norton Road.
UPDATE 6:15 p.m.: This occurred at barns owned by Torrey Farms. The fire did not cause structural damage to the barn. Some hay spread through the barn did catch on fire. But there were 120 cows inside and all of them were unharmed and safely evacuated. Cow trailers are being deployed to shuttle the cows to CY Farms' Heifer Farm, where they will be kept temporarily. It is estimated that it will take about 10 trips to transport the cows for safekeeping.
UPDATE 6:24  p.m.: Elba Fire Chief Mike Heale said the skidster fire sparked some hay but there's no significant structural damage to the barn; some top beams may be singed in places -- a later inspection can confirm that. Heale said there was no extension of the blaze.
UPDATE 6:57 p.m.: Town of Batavia back in service, returning.
UPDATE 7:05 p.m.: Elba back in service. Roads reopened.
UPDATE 7:27 p.m.: Correction, the road is still closed. It is closed until the cows have been moved so the trucks can more safely back in. There is at least one more round trip for the trucks.