August 8, 2016 - 12:44pm
Thangka artist Joanna Angie to kick off fall exhibits at Roz Steiner Gallery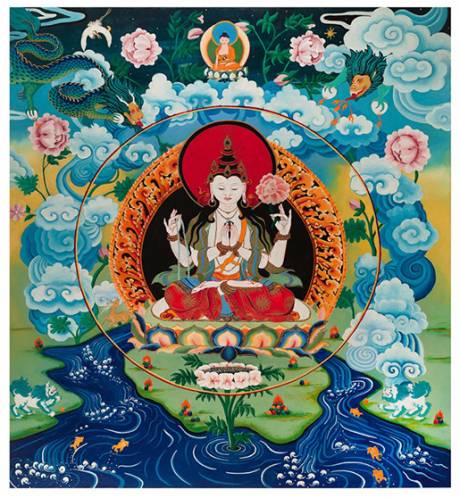 Submitted artwork by thangka artist Joanna Angie as featured in new exhibit at GCC's Roz Steiner Gallery called "Meditation."
Press release:
The schedule is now in place for artists and exhibits that will be featured in the Rosalie "Roz" Steiner Art Gallery this fall at Genesee Community College, and thangka (Tibetan buddhist painting) artist Joanna Angie will display her works from Aug. 22 – Sept. 24 to begin the season.
Evident in her artwork, Angie has a strong sense of connection to Tibetan spiritual practice. Through thangka, a traditional Tibetan form of religious art dating back to the 11th century, Joanna seeks to convey images of compassion, community and knowledge.
"What I found in the Tibetan spiritual practice and thangka paintings was a natural sense of connection," Angie said. "The images stand for qualities we can develop such as compassion, community and knowledge, knowing there was no good judging me, just cause and effect."
Angie is the daughter of an Italian immigrant who escaped Mussolini's wrath and was proud of his American citizenship. After her father's death when she was just 14 years old, faith slowly came to her and school teachers and college professors became new guides in her life. After graduating Bennett College, Angie opened a gourmet food business, but became very sick by the age of 28. Relocation to Massachusetts exposed her to a Tibetan healer and a hatha yoga teacher, giving her new opportunities to heal and figured immensely into her healing process.
As a community-engaged artist, Joanna has worked on numerous projects including the public art project to commemorate the Centennial of the Pan-American Exposition in 2001. She was an active member of the Community Outreach Committee for the 2006 visit to Buffalo by His Holiness, the Dalai Lama and in 2005, 2007 and 2010; she was an active participant in Beyond/In WNY Exhibitions, collaboration between visual arts organizations in the Western New York Region. Her mural commissions include work at Carnegie Hall Towers and William Hurt's residence in New York City and at St. Paul's Cathedral and The Buffalo Club in Buffalo.
Founder of the Buffalo Arts Studio and acting director from 1991-2012, Angie has exhibited her work at galleries in Buffalo, including Anderson Gallery, Buffalo Arts Studio, CEPA, El Museo, Hallwalls, Contemporary Arts Center, Himalayan Institute of Buffalo, Insight Gallery; as well as the Kenan Center in Lockport, Olean Public Library Art Gallery and the Schweinfurth Art Center in Auburn.
In addition to its aesthetic beauty as a work of art, thangka serves as an object of devotion, an aid to spiritual practice, and a source of blessings to those who meditate upon it. Joanna's exhibition "Mediation" will be shown Aug. 22 – Sept. 24 and an opening reception is planned for Sept. 8 beginning at 1 p.m. The exhibition will close with a reception on Sept. 24 beginning at 1 p.m. during GCC's Homecoming festivities.
The Roz Steiner Art Gallery will continue to host natural and historical works through the fall with the following exhibits:
• Oct. 6 – 28 -- "On Watch": A curiosity in the process of knowledge formation drives the conceptual framework for Timothy Frerichs' artwork. Through his site-specific installations, he seeks to address and inform ways of responding to and observing the natural world. With the idea that "to categorize is to know," he explores how gathering objects for information and the creation of knowledge constitutes and develops into a reality, particularly in terms of how culturally accepted concepts evolve and become mainstream.
The Exhibition will begin with an opening lecture and reception at 12:30 p.m. on Oct. 6.
• Nov. 10 – Dec. 16: "A Celebration of Native American Heritage": A comprehensive survey of Native American Heritage spanning 150+ years, this exhibit features a diverse collection of regional artifacts on loan from the Rochester Museum and Science Center as well as artwork from contemporary Native American artist Carson Waterman. Waterman's art and public murals can be found in and around Western New York, as well as at the Smithsonian Institute in Washington, D.C.
Gallery hours are Monday-Friday 10 a.m. – 2 p.m. For more information on all upcoming events at the Roz Steiner Art Gallery visit www.genesee.edu/gallery or www.facebook.com/gccgallery