October 3, 2019 - 12:44pm
Total of 52 GC volunteer firefighters complete annual foam training for vapor suppression ops
posted by
Billie Owens
in
foam training
,
Stafford
,
south byron
,
indian falls
,
elba
,
Darien
,
corfu
,
byron
,
Bethany
,
Alabama
,
Announcements
,
volunteer firefighters
,
vapor suppression
.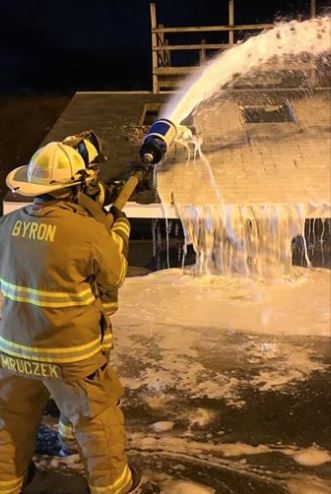 Submitted photo and press release:
Annual Foam Training was held for members of fire departments in Genesee and Orleans counties, with three-hour classroom sessions held in each of the counties followed up with a three-hour hands-on session held on Sept. 30 at the Genesee County Fire Training Center. 
The annual foam training centered on terminology related to firefighter suppression foam, application techniques, equipment, calculations used in accordance with NFPA 11 and water supply to perform foam firefighting or vapor suppression operations.
The 52 Genesee County participants were:  
ALABAMA
Sidney Eick
Gary Patnode
Michelle Patnode
Bill Schutt
Ryan Thompson
Todd Thompson
BATAVIA, TOWN 
Bill Allen
Paul Barrett
Russell Borden
James Bouton
Josh Boyle
Dan Coffey
Paul Dibble
Gary Diegelman
Scott Garlock
Tom Garlock
Clayton Gorski
Stephen Kowalcyk
Bryan Moscicki
Scott Newman
Ian Sanfratello
Rich Schildwaster
Tyler Stewart
Chris Strathearn
Conor Wilkes
BETHANY
Dan Adams
James Duval
Jamie Fluker
Jeff Fluker
Gregory Johnson
Kyle Rombout
BYRON
Zachery Johnson
Robert Mruczek
Cory Russell
Jacob Schultz
CORFU
Lori Ann Santini
Brian Schollard
DARIEN 
ELBA
Ryan Hart
Christopher Lane
Michael Pfendler
Michael Schad Jr.
George Underhill
INDIAN FALLS 
SOUTH BYRON 
Aaron Belluscio
Nicole Boldt
Chase Cone
Allison Gurgel
Vito Muoio
Jacob Yasses
STAFFORD
Julie Bobo
Stephanie Call