Image
South Byron Volunteer Fire Company President Reggie Macdonald presents Melody Stone with his choice as Member of the Year during the annual fire company banquet.
The South Byron Volunteer Fire Company celebrated a year of achievements during its annual banquet Saturday night at South Byron Fire Hall.
Tim Yaeger, Genesee County fire coordinator, served as master of ceremonies and introduced guests during an evening filled with memories, recognitions and honors bestowed on members past and present.
Theresa Hammer gave the firematic membership report, in which she announced they have 48 members, 23 of which are active, and four new members. John Leaton is a life member.
South Byron lost one member, Jeremy Bateman, who died this year. His achievements included being Member of the Year in 1998 and was a past president.  Bob Fite read the Firemen's Prayer in honor of Bateman. Fite added this year marks the 50th anniversary of South Byron's fire hall.
In the membership report, Michelle Dougherty announced Melody Stone as a 20-year member.
In the absence of chief Brian Hickey, deputy chief Jacob Yasses presented the annual firematic report. The department responded to 79 calls, a steady increase from the previous year. These included fire calls, motor vehicle accidents, mutual aid, service calls and one natural disaster.
Jacob Yasses, Jeremie Rassel, Allison Gurgel, Vito Muoio and Matthew Dougherty were recognized as top responders.
The department completed more than 2,400 hours of training during 2022. Topping the list was Nicole Boldt, followed by Vito Muoio,  Jeremie Rassel and Allison Gurgel.
Jeremie Rassel announced Allison Gurgel as Firefighter of the Year.
"She is a huge asset to the department," Rassel said. "She strives for excellence in everything she does for us."
In choosing a Member of the Year, president Reggie Macdonald said it's not about being at every call.
"Sometimes it's what you do behind the scenes, stepping up whenever you're needed and being there for our community, as well as the fire company," he said.
He chose Melody Stone for the honor.
"I don't know what to say," Stone said. "I didn't expect this, but I really appreciate it."
Stone said she is following in her father's footsteps.
Gurgel and Jacob Yasses presented a special Recognition Award to his mother Michelle Yasses.
"She has supported Allie and me at our training on Monday nights or during fire calls in the middle of the night," Yasses said. "She helps watch the kids when Jake and Allie run calls on the rescue squad. I couldn't run the number of calls I do without her."
The final presentations were citations for "going above and beyond," presented by Assemblyman Steve Hawley. They were presented to Jeremie Rassel, Vito Muoio and Brian Hickey for responding for assistance in the severe December 2022 snow storm which hit the area; Nicole Boldt and Vito Muoio, who responded to a call for a woman in labor, and delivered her healthy baby; and to Allison Gurgel and Nicole Boldt for their fast thinking in saving the life of a child who was choking.
Firematic officers for 2023 are Brian Hickey, chief; Jacob Yasses, deputy chief; Jeff Starowitz, assistant chief; Allison Gurgel, captain; Jeremie Rassel, 1st lieutenant; Vito Muoio, 2nd lieutenant and engineer, Chase Cone.
Administrative officers are Reggie Macdonald, president; Jeremie Rassel, vice president; Fred Klycek, treasurer; Katie Rassel, secretary; and Theresa Hammer, membership chair.
Members of the Auxiliary board are Michelle Dougherty, president; Andy Stone, vice president; Katie Rassel, treasurer; and Melody Stone, secretary.
The evening concluded with awarding of door prizes and benediction by the Rev. Harold Coller.

Image
Members of the South Byron Volunteer Fire Company who were recognized for hours of training are, from left, Allison Gurgel, Jacob Yasses, Jeremie Rassel, Vito Muoio and Nicole Boldt.
Image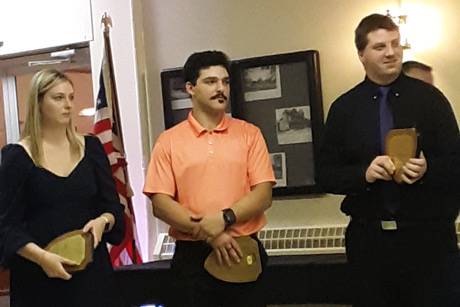 Three top responders in the South Byron Volunteer Fire Company are Allison Gurgel, Vito Muoio and Matthew Dougherty.
Image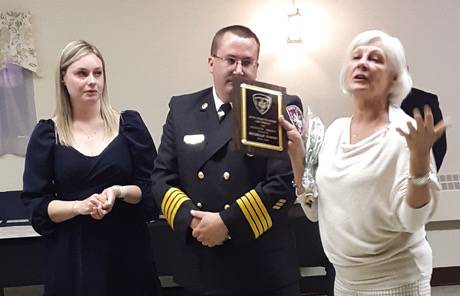 Michelle Yasses, right, excitedly accepts a Special Recognition Award from her son Jacob Yasses and his fiancée Allison Gurgel at the South Byron Volunteer Fire Company banquet.
Photos by Virginia Kropf.