June 5, 2016 - 1:58pm
Tri-Town wins Michael Napoleone 12U Tournament in remarkable game against Le Roy Knights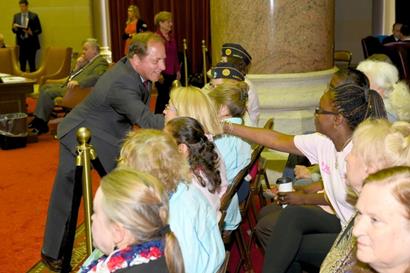 Above from left: Nick Martin, Alex Ellison, Vinny DiRisio, Zach Howard, C.J. Gottler (seated), Bryn Wormley, Luke Rogers, Zach Marsceill (seated), Matt Fellinger, and Connor Willitt.  Coach Vern Howard and Coach Durin Rogers pictured to the rear.
Opening ceremonies.
Fellinger coming home for the winning run.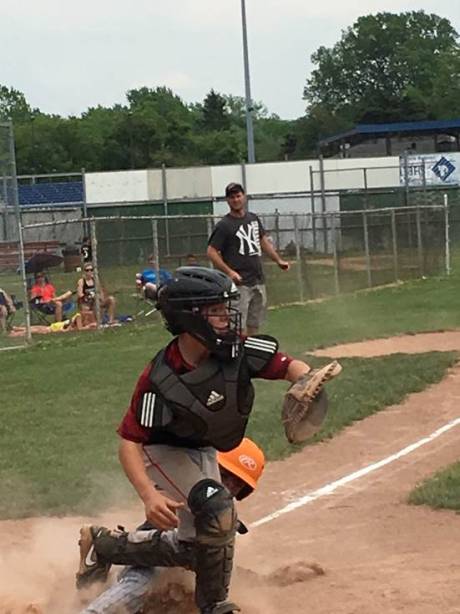 Fellinger under the tag for the win.
Rogers being congratulated for the walk-off triple.​
Submitted photos and story by Coach Durin Rogers.
Tri-Town 12U beat the Le Roy Knights 12U in what would prove to be a legendary game during the eighth Annual Michael Napoleone Tournament over Mermorial Day Weekend.
The Tournament is hosted by The Michael Napoleone Memorial Foundation, Inc., which was established in 2007 and is in memory of Michael C. Napoleone, the 8-year-old son of Mark and Laurie Napoleone from Batavia who died from Burkitts Lymphoma/Leukemia, an aggressive form of blood cancer. During Michael's illness, the community rallied around the family to assist with food, gas, medical bills and other necessities. The not-for-profit foundation was created to give back to those who cared, to give forward to those in need and to support research efforts in finding a cure for childhood cancer.
The 2016 victory was bittersweet for Tri-Town, who had lost to the Le Roy Knights in extra innings during the 2015 Tourney. Tri-Town and Le Roy had each won their three games in the tournament that began Friday and ended with the Championship on Sunday May, 29th. Tri-Town defeated the WNY Spartans 10-0 and 13-5; Fairport Red Rage 12-2; Greece Gladiators 21-1.
Both Tri-Town and the Le Roy Knights had strong showings in all of their games and depth at pitching. Tri-Town pulled home-field advantage, having held its opponents to fewer runs than Le Roy over the tournament. Zach Howard received the call to open pitching for Tri-Town, while the lefty Collin McCauley got the nod for Le Roy.
Following strong pitching by Howard and McCauley and a scoreless first inning, Le Roy then sparked its offense scoring two runs in the top of the second inning on a well-placed double by Zach Vanderhoof and error by Tri-Town. Le Roy held Tri-Town without score in the bottom of the second and added two more runs to its cause in the top of the third inning. Tri-Town then broke out in the bottom of the third inning on the bats of Luke Rogers (1B), Connor Willitt (1B) and Vinny DiRisio (1B) scoring Zach Marsceill, Matt Fellinger and Rogers.
Nick Martin then took the mound for Tri-Town at the top of the fourth inning following a strong outing by Howard limiting the Le Roy team to four runs over the three innings. Le Roy scored another run in the top of the fourth on a McCauley double and a Brady Fix single before Martin struck out the final two batters to end Le Roy's fourth inning run.
 Le Roy's power pitcher, Kenny Saunders, brought heat to bear on Tri-Town's lineup. Yet, Tri-Town's Alex Ellison's lead-off double in the bottom of the fourth along with his speed on the bases led to a Tri-Town score, keeping the game close in the 5-4 battle at the end of four.
At the top of the fifth inning, Le Roy poured it on scoring three additional runs on a double by McCauley and another single by Fix. Tri-Town would add to its cause scoring two runs on hits by Howard (1B) , Martin (1B), and Rogers (1B), to make the game an 8-6 affair in favor of Le Roy. Le Roy was then stymied by Tri-Town's defense and Martin's pitching in the top of the sixth inning, leaving the score at 8-6 LeRoy and providing Tri-Town one last opportunity at bat.
Tri-Town's Ellison led off with a solid double. Le Roy pitcher Saunders and Le Roy's stellar defense resulted in the next two outs in the field with a runner on second. Tri-Town's Bryn Wormley's quick reaction and legs beat out a throw to first base following a dropped third strike, putting runners on first and second.  Tri-Town's Fellinger had an epic at bat when he proceeded to foul off the next 11 pitches to a startled crowd before earning the walk to load the bases.
This year, Tri-Town would not be denied. With two puts and two strikes, Tri-Town's lead-off batter Luke Rogers, and birthday boy, hit a towering shot to the right field fence, clearing the bases and winning the game with a walk-off triple.
The Tri-Town team stats were nothing short of impressive during the tournament, accumulating 59 hits over five games representing 24 innings. One grand slam (Connor Willitt), 10-HR (Zach Howard 2 HR; Vinny DiRisio 2 HR; Nick Martin; CJ Gottler; Connor Willitt; Matt Fellinger), 2-3B (Luke Rogers 2-3B), 11-2B (Luke Rogers 5-2B; Alex Ellison 2-2B; Bryn Wormley 2-2B);and 39-1B contributed by the entire team for a tournament high, team-batting average of .538.