May 10, 2019 - 5:22pm
United Way and volunteers gearing up for 12th Annual Day of Caring May 22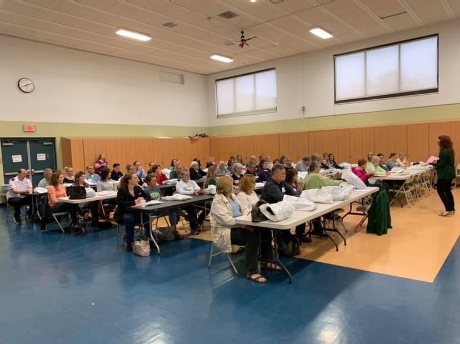 Above, today's meeting at the Arc Community Center where project site coordinators met their volunteer team captains planning for the Day of Caring.
Submitted photo and press release:
On Wednesday, May 22nd, the United Way of Genesee County will host the 12th Annual Day of Caring. This year, 38 local businesses, totally more than 400 volunteers, will be working on service projects throughout Genesee County.
The event will kick off at 8 a.m. at Dwyer Stadium, with donuts and coffee complements of Batavia Dunkin Donuts. Following an energetic opening ceremony, the volunteers will head to their assigned project at one of the 40 agencies participating in the day.
Upon project completion, the day will wrap up with a volunteer celebration at Terry Hills Restaurant at 3 p.m. Stories will be told, volunteers will be fed and everyone can enjoy a slideshow of the day provided by Carlson's Studios.
In total, nearly 2,400 man hours will be spent making the Genesee County community a better place to live.
Some of the workplaces that would be good to visit:
Genesee County Park
ABCD Day Care on Brooklyn Avenue
Batavia Community Garden -- Youth Bureau
Crossroads House
GO ART!
Grandview Cemetery
Tops Friendly Markets Food Drive
Arc/Lions Club Bike Project at Adam Miller Toy and Bicycle