July 28, 2016 - 3:06pm
Walk to End Alzheimer's returns to Batavia Sept. 24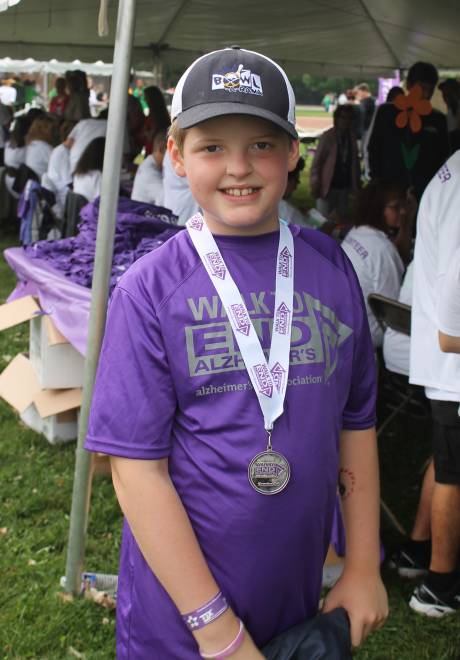 (Submitted photo of Jake Oberg.)
Press release:
The Alzheimer's Association Walk to End Alzheimer's, the world's largest event to raise awareness and funds for Alzheimer's care, support and research, will be heading to Warsaw this October. 
The Batavia walk will take place at the Genesee County Nursing Home, located at 278 Bank St., Batavia, on Satruday, Sept. 24. On-line registration is available now at alz.org/WNY. On-site registration and check-in, basket and 50/50 raffles, and refreshments will be available from 9 to 10 a.m. with a brief opening ceremony to launch the Walk at 10.
The walks are organized by the local Alzheimer's Association and are a vital source of funding for local services and resources. The walks also provide funding for research into a disease that "kills more people than breast and prostate cancers combined," and touches almost 250,000 people across the greater Buffalo Niagara region.
"My grandpa died of Alzheimer's...and I walk with my mom because I don't think anyone else should lose their grandpa to this disease," said Jake Oberg. 
The 11-year-old has been taking part in the event since before he could walk. Additionally, he has raised more than $7,000 with a lemonade stand and baked goods sale to support his Walk team, which has also earned him some special incentives.
In addition to fundraising participants, the Walks rely on hundreds of volunteers and the support of corporate sponsors like Elderwood. Eighty-five percent of residents in skilled care facilities exhibit at least some form of dementia including Alzheimer's.
"Understanding firsthand the personal and health care ramifications of dementia, Elderwood has a long-standing history of supporting the Alzheimer's Association through its Walk to end this disease," said Elderwood Director of Business Development Anna Bojarczuk-Foy. "Finding a cure is one of the single most important goals in extending and improving the lives of the elderly in our communities."
"Northtown Automotive is very proud to continue to support the mission set forth by the Alzheimer's Association WNY Chapter. We understand the importance of supporting our community and have done so for over 45 years," said Northtown Auto Group Chief Marketing Officer Mike Ahern. "Doing our part to support the Walk is a way for our organization to make a difference to thousands and thousands of WNY families who know the impact of this disease. We are confident these efforts will one day find a cure."
Additional corporate sponsors include the law firm of Cellino and Barnes, WDCX Radio and Tim Hortons. 
For more information or to register call 1-800-272-3900 or visit alz.org/WNY.