August 30, 2018 - 4:25pm
'Watching Monarchs' is Sept. 8 at a butterfly meadow in GC Park & Forest, must preregister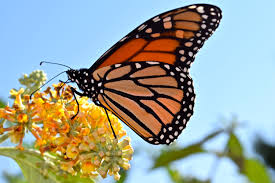 Monarch butterflies, masters of migration, come through New York during the month of September.
Seize the last few days of summer with a visit to a butterfly meadow and a journey into their world!
Join us at the Genesee County Park & Forest for "Watching Monarchs" 1:30 to 3 p.m. on Saturday, Sept. 8th.
See how these regal butterflies are tagged and released as part of a nationwide Monarch conservation project. Conservationists at Genesee County Park & Forest plan to tag and release live Monarch butterflies during this program as part of a national effort to track their migration and populations.
Meet at the Interpretive Nature Center. Learn all about their fascinating lives and discover what you can do to help them out!
Price is $5/person, $10/family. Space is limited; preregistration is required. Call 585-344-1122.
Genesee County Park & Forest Interpretive Nature Center is located at 11095 Bethany Center Road in East Bethany.