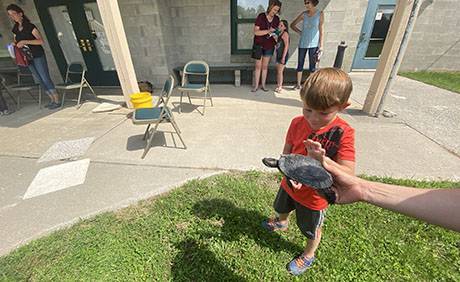 While a gathering of bees and woodpeckers have been welcomed visitors by Mother Nature at the Interpretive Center at Genesee County Park & Forest in East Bethany, they weren't so appreciated by county highway staff once they saw the damage.
The woodland creatures ate their way through the Center's natural siding, and the price for the replacement of that and a new roof left County Highway Superintendent Tim Hens with a bit of shopper's discomfort.  
"I was a little shocked at the price of the project, to be honest with you, but the low bid we received was $248,350. I think with the original, volunteers did it, and the original siding was cedar lap siding … and the bees and the woodpeckers have just literally destroyed that. I mean, there's physical holes in the roof. It needs to be done," Hens said during the county's Public Service Committee meeting Monday. "The problem from a municipal standpoint is it's too small of a project for your general construction people to get involved because they have to suck everything out, and they don't make any money on it. And it's the subs that would do the work and don't want to be the (general contractor) because they don't want to have to take up the bonds, and the insurance is required to be the person in charge. So it's kind of in this purgatory gray zone area between a big project and a small project."
The cedar siding would be replaced with a fiber cement siding, which is appropriate for the building, he said. Vinyl could be used, but it wouldn't really look appropriate on that building, and "you'd lose a lot of the character," Hens said. Using vinyl would have saved about $10,000, and everyone involved is comfortable spending the extra money "to do it right," he said.
"It will make it so that it's maintenance-free for the next hopefully 30 or 40 years," Hens said.
And the bees and birds should leave it alone since it's almost like concrete, similar to what's used at the airport terminal. 
"It's not prone to bugs and insects and woodpeckers," he said.  "It'll be architectural shingles on the roof. They're going to be rewrapping some of the soffits and aluminum, and then the main part of the building will be shake fiber cement siding, and then the higher part in the center will be a false stone application. It'd be really sharp when it's done. It's just the pricing sometimes, in a municipal sense, blows my mind. I saw $240,000. We had $205,000 originally for the budget. I thought we were gonna be great, but this is what it is."
"We've used metal on some of the pavilions and whatnot, but we didn't consider it in this place, just again from the cost standpoint, it's a bigger building, bigger roof, and then Paul wants to keep it kind of a cabin in the woods type of a setting," he said. "It was put together almost 100 percent by volunteers and by county staff, so it's 25 years old."
He has recommended Kircher Construction Inc. of Mount Morris for the job and expects it to be completed by this fall.