July 9, 2018 - 5:19pm
When asked about a debate with McMurray, Collins calls opponent a 'carpetbagger'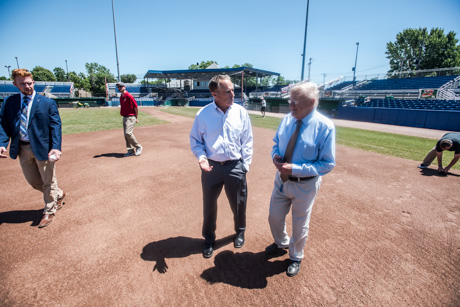 During a visit to Batavia today, Rep. Chris Collins, when asked about debating his challenger for the NY-27 congressional seat called Nate McMurray a "carpetbagger."
McMurray has been using social media and press releases to dog Collins about the incumbent's refusal so far to schedule a candidates' debate.
"Desperate politicians do desperate things," Collins said. "Carpetbagger Nate McMurray, who's never lived in the 27th Congressional District, who opened his district office in Brian Higgins' district — I'm still trying to figure out why he didn't run a primary against Brian, since he's never lived in this district and then had the audacity to open his campaign office not in this district. He lives and works in Higgins district. I don't know why he's running in the 27th."
The Batavian contacted Chris Grant, campaign manager for Collins, a couple of weeks ago and offered to host and moderate a debate but we had not received a response. Collins said he was unaware of the offer but that it's too soon to talk about debates anyway.
"That's a decision to be made in late September into October, when we see where the campaign is, where our campaign is, where his campaign is," Collins said. "It's certainly not a decision now for July."
In a phone interview this afternoon, McMurray called the "carpetbagger" charge by Collins "ridiculous," noting that Collins didn't live in the district when he first ran and that district lines change every 10 years.
"I'm from here," McMurray said. "I was born and raised in Western New York. He's from North Carolina. I've got a cousin who works at Moon Java. I've got family in Batavia. For him to use this name calling, it's stupid. I could call him a white collar criminal all day but then we could have a debate and have a more insightful conversation."
Collins was in town for a visit at Genesee Community College, where he met with students in the TRiO Upward Bound program, which is college-prep coursework partially funded by the federal government, and then received a tour of the campus by President Jim Sunser.
After lunch at the Pok-A-Dot and a couple of other stops, Collins dropped by Dwyer Stadium to learn from General Manager Dave Chase about the effort to keep minor league baseball alive in Batavia.