July 19, 2018 - 6:24pm
McMurray stops in Batavia to criticize Collins for backing Trump on Helsinki statements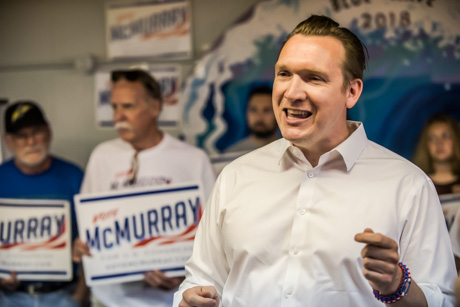 Congressional challenger Nate McMurray made a series of campaign stops in the NY-27 yesterday, including in Batavia at the Genesee County Fair, to call out Rep. Chris Collins for not calling out President Donald Trump over, what McMurray said, was Trump's false equivalency between the United States and authoritarian-ruled Russia.
Collins has stood by Trump following Trump's press conference with Vladimir Putin in Helsinki, which followed a private meeting between the two leaders, where Trump seemingly dismissed U.S. intelligence reports of Russian interference in the 2016 election.
"I'm disappointed our congressman didn't come out boldly — I don't care, if Donald Trump were a Democrat, I don't care who he is — when someone gets up on a stage and compares America to an authoritarian state you have to stand up and say that is wrong," McMurray said. "As a kid growing up in this country and believing in the future of our country, I am saying that is wrong."
In the midst of bipartisan criticism of Trump's remarks, Collins issued the following statement:
"I share President Trump's continued frustration as the left continues to try to nullify the 2016 Presidential election with claims of Russian interference. The fact is, any Russian meddling did not make a difference in the election and there was no campaign collusion. It's time the Mueller investigation comes to a conclusion. I also urge the President to work with Congress to ensure any future Russian attempts to influence our elections are stopped at our border. Unfortunately, this is something the Obama administration failed to do."
McMurray said in the 48 hours after the press conference, his campaign was re-energized by new supporters and new volunteers signing up.
"Republicans, Democrats, and independents alike are getting involved in our campaign and they're getting involved because they're worried about the state of our country," McMurray said.
About 24 hours after the press conference, Trump said he misspoke in Helsinki.
"I thought that I made myself very clear, but having just reviewed the transcript ... I realized that there is a need for some clarification," Trump said. "The sentence should have been ... 'I don't see any reason why it wouldn't be Russia.' "
He said he meant to say "wouldn't" instead of "would."
McMurray thinks Collins has a job to do and he's not doing it: Being a check on executive power.
"A big part of being a congressman is you must be a check on the executive branch, even if you love Donald Trump," McMurray said. "We do not live in an authoritarian state like Putin has. We live in a country where people who go to Congress, people who fight for the people of Western New York, need to be a check on the executive branch so we don't have an expansion of unwarranted power."
The Batavian contacted the Collins campaign and requested a response. Spokesman Bryan Piligra sent over the following quote:
"Residents of Genesee County know Chris puts their interests first in Washington, fighting for our farms, veterans, and small businesses. They also know he proudly supports President Trump and he won't back down from that support because radical progressives can't get over the 2016 election."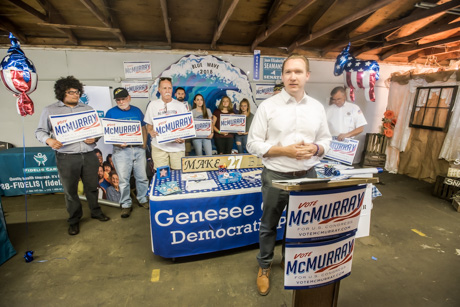 July 20, 2018 - 12:44pm
#3
"I had hoped President Obama would use tonight's address to apologize to the American people for his failed policies, which have weakened America's standing abroad, failed to stop the expansion of ISIS, dramatically increased our national debt, and caused poverty rates across the nation to skyrocket," said Congressman Collins. "But instead, what I heard was a refusal to own up to any mistakes, and a call to continue on a path that fails to find the solutions working families deserve.
"Americans are demanding a new direction. On the global stage, we need to stand up to our enemies and lead by example. Instead of befriending countries like Iran, who detained U.S. sailors and whose leaders still chant 'Death to America' and Cuba, which is holding onto one of our Hellfire missiles, we need to protect allies like Israel.
"When it comes to here at home, the president's policies have failed to create an economy that can support the middle class. As a result, thousands of Western New Yorkers are still struggling to make ends meet. To get the millions of middle class workers on the sidelines back to work, we need to encourage an environment friendly to job creation through comprehensive tax reform, energy independence, entitlement reform and a patient-centered health care system.
"Unfortunately, the president has stuck his head in the sand, again. Instead of real solutions to the challenges we face, he chose to give us more of his failed rhetoric. America is the greatest country in the world, but if we are to stay the best, we need a leader who will make tough decisions, instead of trying to embellish his legacy."
- Chris Collins, January 13 2016
I have to wonder based on that (emphasis mine of course), if Obama had done what Trump has done regarding Russia's current electronic warfare campaign, if he would be so quick to call it the work of 'bitter conservatives upset about the election'.
I feel most people already know the answer though I would think, since both sides are party over everything, do and say what you need to do to get elected.