October 10, 2018 - 10:44am
Larry Sharpe says he's the one candidate who can repeal the SAFE Act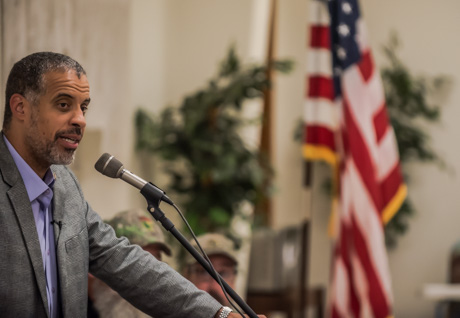 Republicans in New York have been totally ineffective in protecting the Second Amendment rights of the state's citizens, Larry Sharpe, Libertarian candidate for governor, told members of Genesee County SCOPE at the regular monthly meeting at Calvary Baptist Church in Batavia on Tuesday night.
He is the only candidate on the ballot, he said, who can and will get the SAFE Act repealed, and he laid out a plan for getting it done even though he would be the only elected Libertarian in the state.
First, Sharpe said, within 90 days of taking office he would pardon every person in the state who has been convicted of a SAFE Act felony. Next, he would encourage local law enforcement to stop enforcing the SAFE Act.
At that point, Sharpe said, he will be attacked by the media. But rather than cowering, he would use the attacks to educate the public about how bad the SAFE Act is for all New Yorkers.
"When I talk with people who support the SAFE Act, they say the SAFE Act is great and that is as far as they think about it," Sharpe said. "They say the SAFE Act has the word 'safe' in it so it must be good. 'We haven't had a school shooting since 2013, therefore the SAFE Act works.' "
He said the problem with the Republican argument against this shallow line of thinking has been, "but it's unconstitutional," which is totally unpersuasive to a supporter of the SAFE Act.
His line of argument gets their attention, he said.
"The SAFE Act has made millions of New Yorkers overnight criminals," Sharpe said. "They purchased a firearm legally and then the next day they were violent felons in the eye of the law. And they go, 'oh, really? I thought the SAFE Act just outlawed machine guns.'
"That's not what it did. No, literally, it made millions of New Yorkers violent felons overnight. It made all medical personnel part of the the state secret police. They must now literally report on people (who they might suspect of mental illness)."
Sharpe used an example of a person seriously injured who tells a doctor, "I'm in so much pain I want to die." That person, Sharpe said, gets labeled "suicidal" and now can't possess a firearm.
He also said the SAFE Act also disapportinately affects veterans, who are both more likely to own a firearm and more like to suffer from PTSD.
"When you tell people this, watch all the people who were pro SAFE Act start to say, 'oh, that's bad,' " Sharpe said.
Once he's pardoned those convicted under the SAFE Act, and once it's not routinely enforced, and once he's made the public case why the SAFE Act is an unfair law, then he can go to the Legislature and tell them, "repeal it."
He thinks that by then the political pressure will be on the Democrats in the Assembly to repeal it and he will be able to get the votes in the Senate because at least five members will have decided it's politically expedient to be on the side of the governor and will have switched their party registration to Libertarian.
He promised to have the SAFE Act repealed in 2020.
Sharpe said he will win the governor's race because he has a movement going. He compared it to Donald Trump's campaign. People didn't see Trump coming because he used Twitter to build support.
"I use Facebook and video," Sharpe said.
He said his campaign appeals not just to Republicans but also Democrats and independents.
"I am the most pro Second Amendment candidate ever and I draw Democrats all the time," Sharpe said. "You want to win the election? You want to make this a pro Second Amendment state? You've got to get Democrats. You've got to get independents. Republicans are not enough."
October 11, 2018 - 8:55pm
#1
Larry Sharpe is by far THE most viable candidate running for Governor!! I hope that people will stop buying the 2 party bull crap lies, and seriously investigate Larry Sharpe! Look on Facebook or You Tube - there are plenty of videos with Larry Sharpe explaining his policy ideas!! I wish that local politicians would endorse him as well, but party unity is strong! www.larrysharpe.com
October 12, 2018 - 2:06am
#2
Marc's campaign is broke. Cuomo thinks he is king. Time to send a solid message to both parties and put Larry Sharpe in Albany. #debatelarry