October 18, 2018 - 2:58pm
Main St. Pizza donates $4K to Sheriff for new K-9; tribute planned for 'Destro'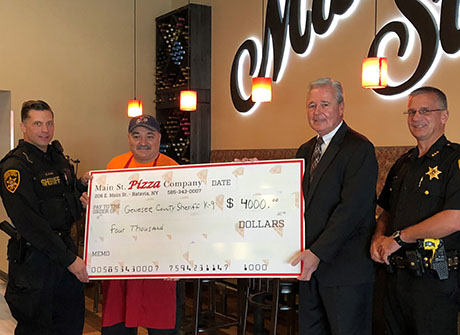 Vic Marchese, owner of Main St. Pizza Company donated $4,000 this morning to the Sheriff's Office to be used toward the purchase and training of a new K-9.
The department's K-9 "Destro" died unexpectedly two weeks ago and the Sheriff's Office is just beginning a fund-raising campaign for a new dog.
Photo submitted by the Sheriff's Office: From left, Deputy Chris Erion -- Destro's partner, Vic Marchese, Sheriff Bill Sheron, and Undersheriff Greg Walker.
The Sheriff's Office is also planning a tribue to Destro on Wednesday. Press release below:
A tribute to honor Genesee County Sheriff's Office K-9 "Destro," who passed away last week after a very short battle with cancer, will be held next Wednesday, Oct. 24, 3 -7 p.m. at the Genesee County Sheriff's Office, 165 Park Road, Batavia.  The public is welcome to stop by and enjoy refreshments while viewing a slideshow of Destro's accomplishments. His handler, Deputy Erion, will also be in attendance.

The K-9 program is a valuable asset to the Sheriff's Office and surrounding law enforcement agencies. The K-9 team is used for search and suspect apprehension, locating missing persons including missing children and Alzheimer's patients, contraband and drug searches, tactical tracking, evidence recovery, building searches, patrol, and public presentations.

The Genesee County Sheriff's Office has been able to maintain a K-9 team for the past 16 years with support and donations from the public along with county funding. Public support and donations are vital to the continuation of this worthwhile program and are used to help offset the cost of food, veterinary services, training, equipment, and other K-9-related expenses.

Deputy Erion will continue to be the K-9 officer and has begun the search for a new K-9. The cost for a police dog ranges between $7,500 - $10,000 and a 15-week K-9 training course costs approximately $5,000.

The Genesee County Sheriff's Office is respectfully requesting your help to raise funds to continue this program, a critical service to the community. Donations can be made payable to and mailed directly to Genesee County Sheriff's Office K-9 Fund; 165 Park Road, Batavia, New York 14020. A GoFundMe page has also been created, and the link is available from the Genesee County Sheriff's Office Facebook page.

Please consider making a donation to the K-9 Fund; your support is greatly appreciated.
October 19, 2018 - 2:35pm
#1
That is an awesome gesture of love for the community. I'm sure I speak for many when I say thank you to Nic and rest of the Main Street Pizza family!