October 22, 2018 - 12:41pm
Pembroke student, blind since birth, joins cross-country team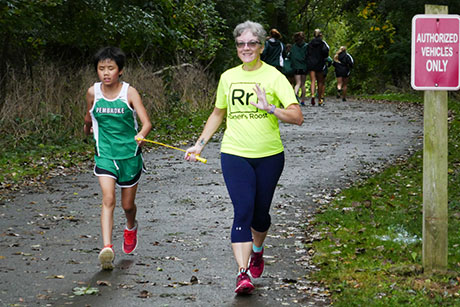 Anneka Pray's story is one which gives her school principal Nathan Work goosebumps.
Anneka, 12, is a seventh-grade student at Pembroke Junior-Senior High School. What makes her stand out is she has been blind since birth with a condition called microcornea, yet wanted to participate in school sports.
"We've never had a student like this in the past," Work said. "She's led the pack in transitioning to seventh grade."
"Anneka advocates well for herself," said Chelsea Hale, the vision teacher at Pembroke. "She wants to be as independent as possible."
When Anneka announced she wanted to participate in sports, she initially thought she would like to do soccer. When her mom told her she probably couldn't do that, Anneka said she thought she'd like cross-country.
The school reached out to Camp Abilities at Brockport State College to learn how they could help Anneka.
It turned out Anneka's math teacher Peggy Haney is blind in her right eye, but also enjoys running. She agreed to be Anneka's guide runner.
Before this year, Anneka said math was her least favorite subject, but now it is her favorite.
Haney said her blindness means her perception is off. It took her a week to adjust to running with another person. She had started running two years ago, but had never done cross-country.
"Our common thread is we were both born with our condition and neither is fixable," Haney said.
Anneka runs a modified cross-country and is coached by Toby Beahan.
"I received word over the summer Anneka was coming to high school," Beahan said. "I was told she was interested in cross-country and I wanted to set things up to accommodate her. The trails can be a challenge, but once everything was in place, the most exciting things happened. It was awesome. The best part for me is shouting when Anneka is nearing the finish line. All the other kids and coaches are yelling and cheering her on, too."
Anneka and Haney were among the competitors in Pembroke's Home Invitational a week ago.
"She does fantastic," Haney said. "She sprints and she passes people. She is going faster and faster."
Anneka has a sister in eighth grade and a brother who is a senior. She would like to go to college and find a way to help people like her be able to see.
"Anneka is inspiring to everybody with all the ideas she wants to do," Hale said. "One thing about Anneka, once she sets her mind to something, she sees it through."
Her teachers said Anneka is a good student who works hard.
"I've been in education going on 16 years and I've never encountered anyone like Anneka," Work said. "She is a very special little girl. I don't think it gets any better than this."
October 23, 2018 - 2:01pm
#1
It is awesome that Mrs. Haney helps out Anneka. I love seeing them race in all the races together. I really like Pembroke School District