February 3, 2019 - 5:48pm
Collision on Ellicott Street in front of Southside Deli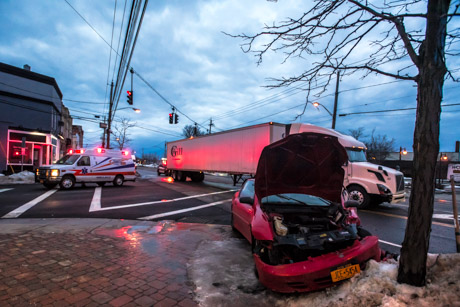 A semi and a burgundy coupe collided at the intersection of Ellicott Street and Summit/Liberty. City fire, police and Mercy medics are on scene. Traffic was backed up in both directions, but traffic lanes are being reopened now.
The female driver of the coupe may have minor injuries and is being transported by Mercy medics to UMMC for evaluation. The truck driver appears to be uninjured. He faces a citation for allegedly running a red light. 
February 4, 2019 - 9:06pm
#5
I heard one time truckers save about $80 taking the shorter Route 63 route. I've never verified it.
That's a big economic incentive to overcome.
I guess there have been proposals in the past for truck-by-pass routes -- I think that would be great for Batavia -- but they died on the vine.
Some of the proposals to better link Ellicott with downtown, and make it more pedestrian and bike friendly, would slow down truck traffic but it wouldn't eliminate it. That alone won't bridge the gap of saving $80 on the trip.