May 14, 2019 - 9:45am
Since 1924, Batavia Concert Band providing summer entertainment to local residents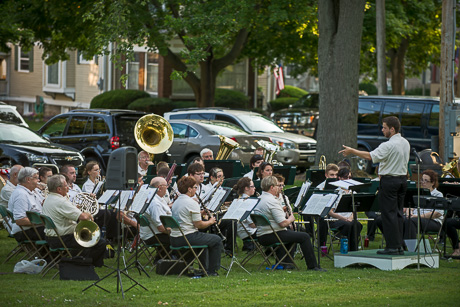 It was 1924, a world-renowned musician had a dream of creating a band in Batavia. Angelo Colarusso, a famous conductor and baritone player, formed the first Batavia Boys' Concert Band as the conductor and instrumental instructor.
Over the next two years, the band was reorganized and called the American Legion Band. Edward Sullivan conducted the band until 1933 and was followed by conductor Angelo Zimmarino.
During World War II the group disbanded and restarted in the late '40s under the direction of Gordon Cox. Daniel Martino and Joseph Puccio were original boys' band members and continued to play through the early 1980s.  
During this time the band consisted of only 15 to 20 professional musicians. Over the next 10 years, the band expanded to include qualified adults who enjoyed playing and added advanced high school and college music students. Now the band had 40 to 50 participants.
In the '90s, the band consisted of several music teachers throughout Genesee County, several adult amateurs, and students from area high schools and colleges. The Batavia Concert Band always welcomed community musicians to join the band.
Today the Batavia Concert Band is proud to have an equal number of men and women that includes players with ages that range from advanced high school players in their teens to musicians who have enjoyed playing for 50 to 60 or more years.
Instruments that make up the band are saxophones, French horns, trumpets, baritones, tubas, flutes, trombones, and percussion.   
Members of the band learn from each other. The main objective of the Batavia Concert Band is to bring quality live band music to an appreciative audience. The band's goal has always been to give free concerts to the public in an outdoor family-oriented atmosphere and it remains the same today.
The Batavia Concert Band programs have varied. To name a few; Civil War Concert, Music from Around the World, Italian-American Night, Irish Folk Song Suite, Marches, Jazz, Show Tunes, Plays the Pops, Polka Fest, Baseball Hotdogs & Apple Pie, Sock Hop & Cruise Night, and Swing's the Thing.
Every band needs an excellent conductor. Returning for his seventh season as conductor is John Dailey, Instrumental Music teacher at Lyndonville Central School.
Other conductors that have led the Batavia Concert Band are, in alphabetical order: Roger Bolton, Phil Briatico, Wayne Burlison, Frank Dow, Donna Flood, Jane Haggett, Gordon Hardy, Neil Hardwick, Ken Hay, Kevin McLaud, Josh Pacino, John Ranalli, Derek Reiss, Don Rogers, Mike Rudnicki, and Skip Taylor. 
The Batavia Concert Band's main financial support is provided by a variety of sponsors. Their main sponsor is, in part, funds from the Decentralization Program, a re-grant program of the New York State Council on the Arts, administered locally by GO ART! In the past, local service organizations and local businesses have supported the Batavia Concert Band.
The Batavia Concert Band also offers a scholarship to a high school graduate. Preference is given to a student majoring in Music Education or a Music major, and they must also demonstrate a commitment to community bands and music.
Every Wednesday, beginning June 26  through Aug. 7, the Batavia Concert Band will be performing at 7 p.m. in Centennial Park. They will also be at the Picnic in the Park at 11 a.m. on July 4th.
This organization has purchased their own chairs and a trailer to haul them and their equipment. If you see a musician in a green shirt with the logo Batavia Concert Band, you are looking at a musician who has dedicated his or her talent to giving you a night of music.
During the summer if you are driving down Ellicott Avenue or Richmond Avenue and you hear beautiful band music coming from Centennial Park and notice many lawn chairs on the grass, you can thank the music teachers from the area and the very talented high school and college students who are performing for your pleasure.   
They hope to keep band music alive and to continue to generate interest in band music, inspire children to study music, and encourage students and adults to continue playing, and in doing so the band will have accomplished its worthwhile goal.
Lots has changed over the years, but the Batavia Concert Band has remained a wonderful addition to the music community of Batavia. Hope to see you at Music in the Park!
Photo: File photo.
May 14, 2019 - 10:15am
#1
It's wonderful seeing local entertainment like this. Thank you for providing this wonderful entertainment to Batavia and the surrounding communities.
May 14, 2019 - 12:31pm
#2
I am not a regular attendee of these Summer Concerts. Several years ago the BPO performed there and I attended. This was extremely entertaining and I enjoyed the program greatly. I would like to see this repeated this Summer..