May 16, 2019 - 8:40am
Farm-to-Pint event Sunday gives beer lovers chance sample brews from WNY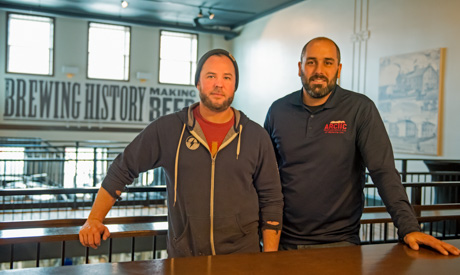 Brewers and beer lovers from throughout Western New York will converge on Eli Fish Brewing Co. in Batavia this Sunday for the conclusion of Farm-to-Pint Week, a regional event organized by the Buffalo-Niagara Brewers Association.
The event is called a "tap takeover." Brewers from the association who used ingredients grown on Western New York farms will take over the taps with their own beers (Eli Fish will have four of its own beers on tap) from 1 p.m. to 8 p.m. The event is open to the public.
The association bills the week as a chance to celebrate the regional brewers and growers who work together to produce some incredible handcrafted beers.
Earlier this week there were events at Resurgence Brewing in Buffalo, Food Truck Tuesday in Buffalo, and tomorrow 42 North Brewing Co. in East Aurora hosts "Full Circle Fest 2019."
The tap takeover event was previously hosted by a brewery in Hamburg, so Eli's brewmasters Adam Burnett and Jon Mager (top photo) said it's a real honor that the association decided to host the event in Batavia this year.
"We think it's pretty cool that when we offered to host it they didn't flinch," Burnett said. "I think that speaks to the inclusiveness, that we're part of the real scene of the Buffalo-Niagara Brewers Association only in our second year. I know a lot more brewers are well established so it's a sign of respect to be included."
May 16, 2019 - 11:36am
#1
Is there a list of participating breweries, or are we to assume that those mentioned in the article are the only ones included?
The Farm-to-Pint event at Eli Fish, according to the website for the Buffalo-Niagara Brewers Association will feature more than 24 WNY brewed beers, including four from Eli Fish, on tap. It does not list the participants, but the website does list 33 member breweries that invitees would be culled from.
12 Gates Brewing Company
42 North Brewing Company
Belt Line Brewery & Kitchen
Big Ditch Brewing Company
Big Inlet Brewing
Buffalo Brewing Company
Buffalo Brewpub
Buffalo RiverWorks
Brickyard Brewing Company
Community Beer Works
Ellicottville Brewing Company
Eli Fish Brewing Co.
Five & 20 Spirits and Brewing
Flying Bison Brewing Company
Four Mile Brewing
Froth Brewing Co.
Gene McCarthy's Brewery & Kitchen (Old First Ward Brewing)
Gordon Biersch
Hamburg Brewing Company
New York Beer Project
Pearl Street Grill & Brewery
Lafayette Brewing Company (formerly Pan Am Grill & Brewery)
Pressure Drop Brewery
Prosper Brewing Company
Resurgence Brewing Company
Rusty Nickel Brewing Co.
Sato Brewpub
Southern Tier Brewing Company
Steelbound Brewery & Distillery
Thin Man Brewery
West Shore Brewing Company
Windy Brew
Woodcock Brothers Brewing Company