June 7, 2019 - 6:48pm
BREAKING: Batavia's David Bellavia to receive Medal of Honor at White House later this month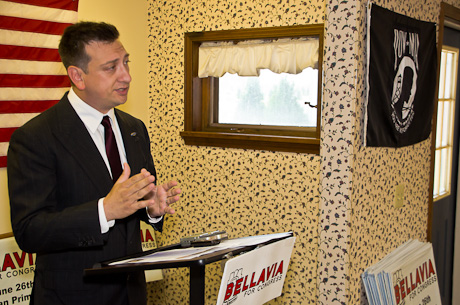 When President Donald Trump drapes the Medal of Honor -- our nation's highest honor -- around David Bellavia on June 25, the Batavia resident will become the lone living veteran of the Iraq War to receive the honor.
Bellavia, who co-hosts a news talk show on WBEN, wasn't available for comment today. 
Bellavia is already a Silver Star recipient for his single-handed battle against a nest of insurgents during the Second Battle of Fallujah. 
He's also received the Bronze Star, three Army Commendation Medals, two Army Achievement Medals, and the New York State Conspicuous Service Cross.
The Batavian will cover the press conference in Buffalo next week and the award ceremony at the White House on June 25 at the invitation of Bellavia.
Photo: File photo from 2011 when Bellavia announced his first congressional campaign.
Sully the medal. It pays to kiss up to the deeply entrenched neocon warmongers and their fawning admirers. VOMIT!