March 18, 2022 - 11:27am
Highway superintendent floats the idea of an air show at Genesee County Airport, possibly in 2023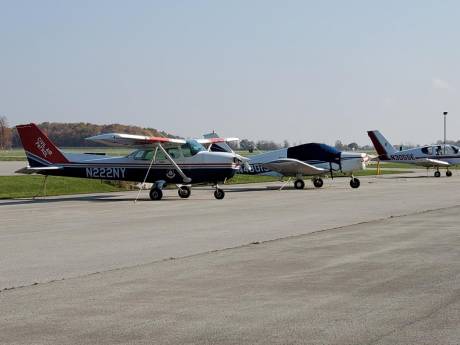 A return of an air show to the Genesee County Airport?
In the eyes of Genesee County Highway Superintendent Tim Hens, the stars are aligned for the county to show off its renovated airport by hosting an air show – maybe as soon as the summer of 2023.
Hens, who is responsible for overseeing operations at the East Saile Drive facility, made the suggestion at Wednesday's county legislature's Public Service Committee meeting.
"There is interest in an air show," he said, adding that the airport has been "completely redone," including installation of water and sewer systems to accommodate such an event.  "It would be a showcase for the community."
The last air show in Genesee County took place in 1998, Hens said, and was well-attended. Air shows in other communities, such as Geneseo, Niagara Falls and Rochester, continue to be successful.
Hens said the event can be a moneymaker for the county – namely through fuel sales and sales tax revenue from purchases at the show. He said he would be able to line up a promoter and performers as soon as the legislature grants its approval.
In other news involving the airport, the committee forwarded the following resolutions to the legislature meeting next week:
Providing advance funding for a project to purchase snow removal equipment that is eligible for a $353,000 grant from the Aviation Capital Grant Program as part of the state's AIR '99 Program.
The county would receive reimbursement for that amount, but would be responsible for $39,250 of the expense, which would be paid out of the 1 percent sales tax fund.
Hens said he had been seeking funding for this venture from other sources and was "surprised" to learn that the county had received the grant. He said snow blowing equipment will be purchased since it's more efficient using plows to clear the runways.
Contracting with C&S Engineers Inc. of Syracuse for as-needed airport engineering, construction management and grant administration services from April 1, 2022 through March 31, 2027. Hens said the company is "highly rated" and has worked with the county for three decades.
March 18, 2022 - 10:09pm
#1
Great idea, I was there at the last show as EMS personnel, it was a great show. I thought the highlight of the show was when the B2 stealth bomber did a touch and go. I hope they listen to Mr. Hens and bring another airshow to the Batavia Airport.
March 19, 2022 - 1:39am
#2
Seeing that B-2 Stealth fly bye blew my mind. All I could think of I was seeing the Bat Plane.