June 18, 2009 - 10:15am
Manhunt in progress near Townline and 63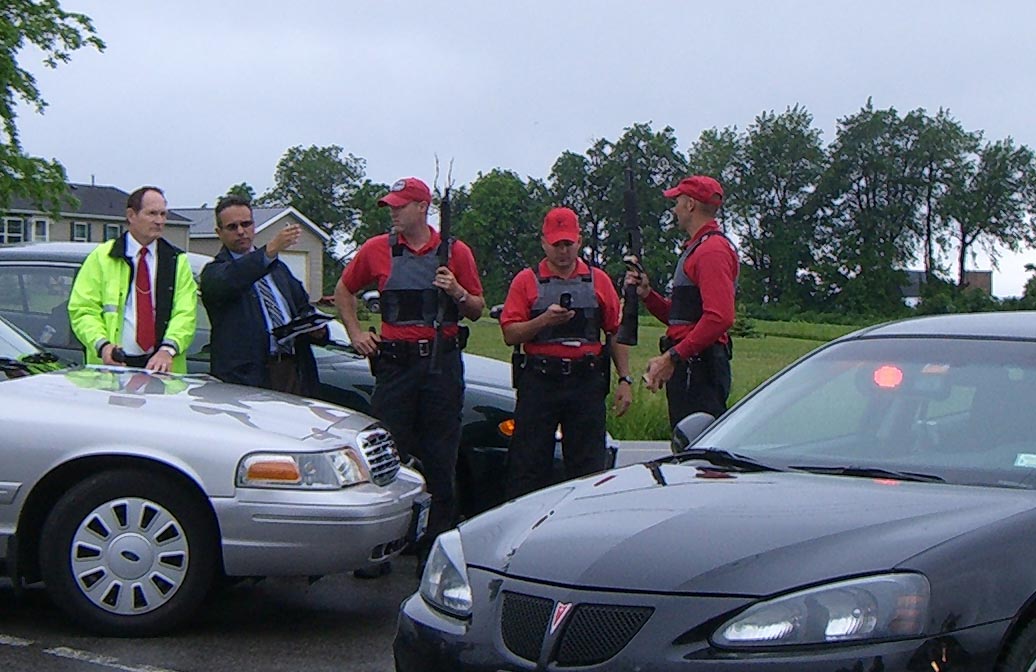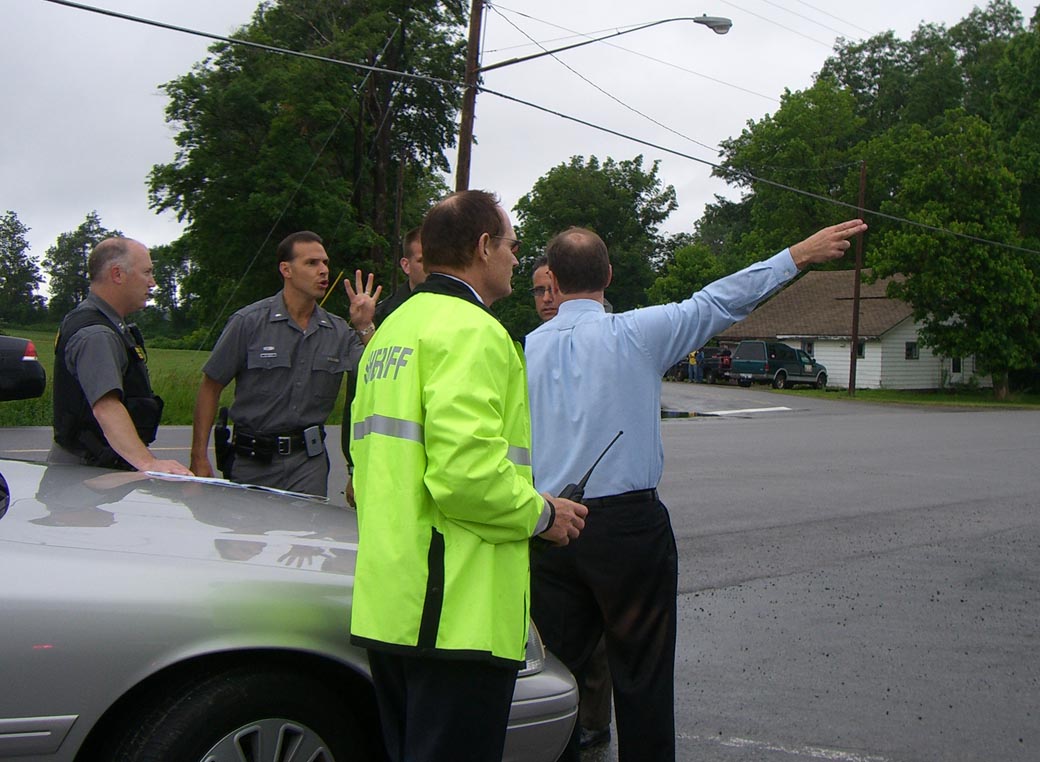 There is a manhunt in progress, with one suspect in custody around Route 63 and Townline Road.
Two other suspects are reportedly still at large, possibily armed, and on foot.
We don't know at this time what triggered the manhunt.
A helicopter has been called in to help with the search.
Batavia Police and Sheriff's Office units are on scene at multiple locations along Route 63.
UPDATE: There is a reported "money trail" south of the subject's vehicle.
UPDATE: 10:30 a.m.: Sheriff Gary Maha has confirmed the suspects are wanted in confirmed the suspects are wanted in connection with a bank robbery in Elba.
And, a woman just drive up to the command center, ran up to the sheriff and said she saw a subject running in a field north of Townline Road just minutes ago. The subject is east of 63, running north.
UPDATE: Helicopter on scene now.
UPDATE 10:50 a.m.: Second suspect in custody. Two more at large.
UPDATE: 10:52: One of the suspects in custody has reported there were only three subjects in the getaway car.
UPDATE 11:02 a.m.: Dan Fischer at WBTA is reporting that all schools in Genesee County have been placed on lock down.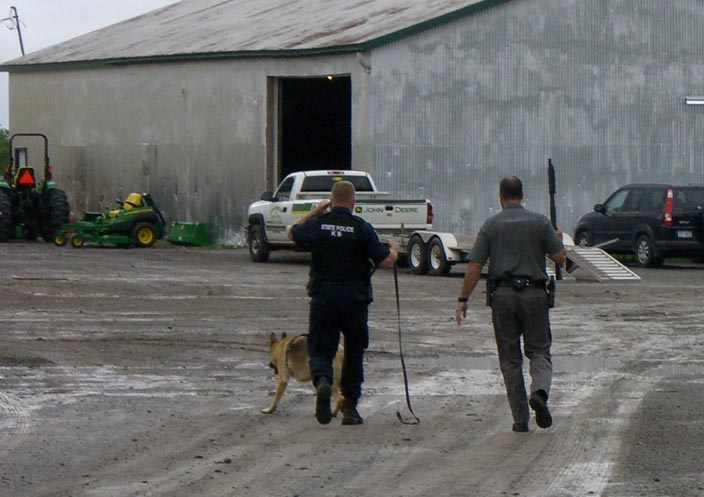 UPDATE 12:22 p.m.:  K-9, officers on foot and a helicopter has been searching a area to the northeast of the John Deere location.  Now officers are discussing a report of foot prints in a field south of Townline Road. Air 1 has just been moved to that field, where a border batrol K-9 unit found the tracks.
UPDATE: 1:01 p.m.: Maj. Cummings of the NYSP just told the assembled media that the cordoned area is 5 miles.  Sheriff Maha said, "We have two suspects in custody. We have this person identified. He might as well give up."  Cummings encouraged people in the area to make sure their cars and houses are locked and don't let anybody in.
UPDATE 1:10 p.m.: Sheriff Maha just requested that all schools be unlocked. "We have two suspects in custody and a good idea where the third suspect is, so we don't see any reason to have any schools locked."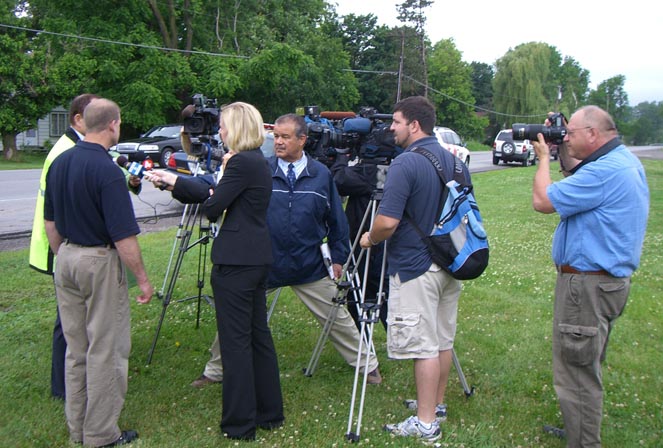 UPDATE: Took a while to get this video processed ... it's not quite done.  My battery is almost dead, so I'm inserting the code for it now ... should appear shortly ... and shutting down laptop unless there is a significant development.
UPDATE: 2:30 a.m.: The at-large suspect has been identified as Michael J. Wells, 24, of Buffalo. He is 6' and 200 lbs. No other details about his background were releases.  If my battery lasts long enough, I'll post a photo shortly.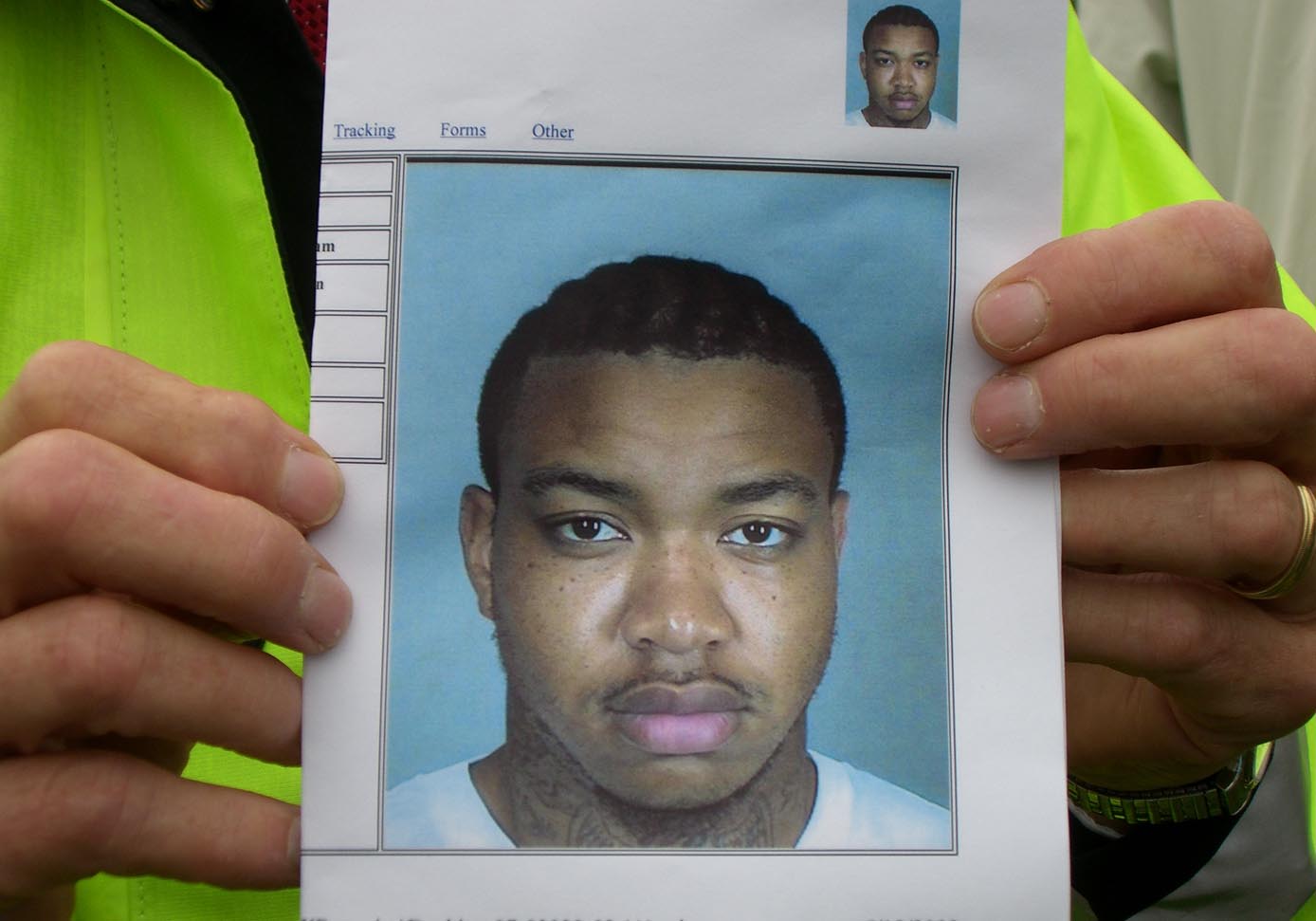 UPDATE 2:42: The third suspect is in custody.
UPDATE 5:25 p.m.: Below is cellphone video submitted by Paul G. Barrett of Batavia depicting the apprehension of the final of three bank robbery suspects after a five-hour manhunt.
June 18, 2009 - 10:34am
#6
It is correct the M&T bank in Elba was robbed and the suspects were scene taking off in a black trailblazer with very dark tinted windows and no plates on the vehicle headed down batavia elba townline rd. They then dumped the vehicle and are on foot. Believe they have one in custody at this time.
Pages