May 21, 2011 - 8:49am
Photos 'Bowser' at 400 Towers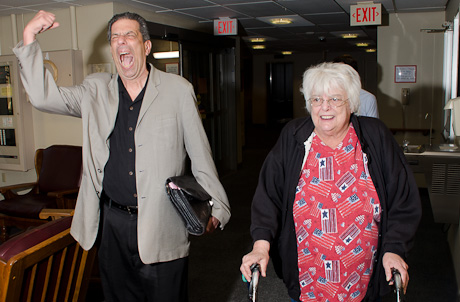 Jon "Bowzer" Bauman, star of Sha-Na-Na, stopped by 400 Towers on Friday evening to talk with residents about Medicare, Social Security and his career in music and television.
Though Bauman's appearance was sponsored by Kathy Hochul, his talk was pretty non-political. Bauman mostly stuck to the facts of the programs and proposals, at least as he sees them.
Above, Bea McManis escorts Bauman into 400 Towers as Bauman displays Bowzer's trademark muscle flex.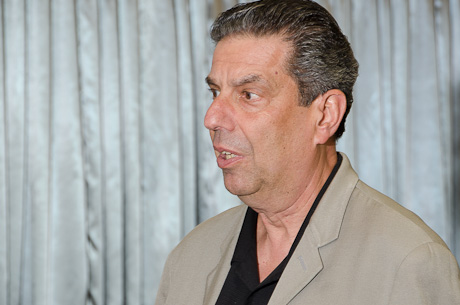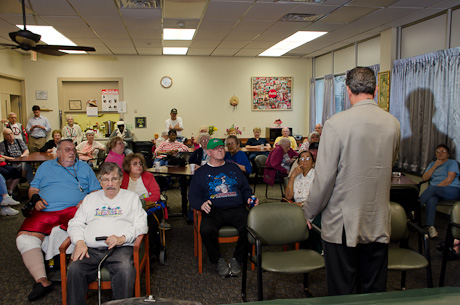 JoAnne, I wish you were there. It was non-political. Decimate, to my knowledge, was never said. Anyone is welcome to come and talk to residents and discuss "facts as they see them". It is always an open forum. They are told, up front, that they can't campaign for the very reasons you mentioned. Both Republicans and Democrats have come to the Towers to speak. We've had bi-partisan events and events where a single person comes in. All they need to do is call and request a time and adhere to the guidelines. Would you be half as concerned if it had been Corwin; Davis; Murphy, or Jeff Allen? They would be welcome too. If I recall, Howard was standing behind me when I went over the groundrules with Bowzer. His introduction never included the Hochul name. His message was to get out and vote. He never suggested that they vote one way or the other, just do it. Yes he is an entertainer and entertain he did. He told stories about his childhood; he played Chopin (twice) on the piano; he explained that his early training was in classical music but he finally got to Carnagie Hall as "Bowzer" with Sha Na Na. Since he was speaking to seniors, he shared memories of his parents and how proud his mother was of him (and herself for forcing those piano lessons on him). So proud, in fact, that at the end of the concert at Carnagie, she signed autographs as "Bowzer's Mom". The seniors had a ball telling him about their memories of going to his concerts and where they saw the band live. He stuck to the guidelines. If you feel that the residents should be deprived on an evening they enjoyed then I guess you can get the wheels turning to stop it in the future. If you feel it was illegal, then the person to to have arrested is me since I, as the person who books events for the residents, am responsible.