July 11, 2011 - 2:20pm
RN accused of creating inflated call claims to steal more than $14,000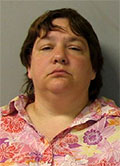 A former Bergen resident who was recently accused of stealing a mailbox from a neighbor is facing a grand larceny charge for allegedly stealing $14,650 from her former employer.
Michele Ann Case, 46, of 1037 Chili Center-Coldwater Road, Rochester, a registered nurse, is accused of submitting inflated mileage claims and fraudulent "call-in" claims that, in effect, diverted $14,650 from her employer.
Case worked for the company, which is not named in the press release, from late 2008 through January 2011. She is accused of filing the inflated claims from January 2009 through January 2011.
Following arraignment in Batavia City Court, Case was released under supervision of Genesee Justice.
The alleged larceny was investigated by Det. Charles F. Dudek, Batavia PD.
In June, Case, who was listed as a resident of North Bergen Road, Bergen, in previous arrest reports, was accused of stealing a mailbox. In comments on The Batavian, Case said she thought the mailbox was unused and was merely recycling it.
Previous stories about Case:
July 11, 2011 - 5:45pm
#4
lets give her a break. Maybe she thought that since the money was just sitting in her company's bank account not being used she could recycle it into her account