November 12, 2011 - 11:55pm
Two runners from Genesee County capture state titles in cross-country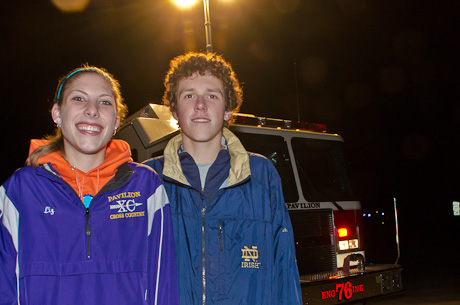 Updated Sunday, 11:02 a.m.
Liz Valento, Pavilion, and Jeffrey Antolos, Notre Dame, were given a big welcome home tonight at Route 20 and Route 19, Pavilion, as they returned from the state cross-country championship.
Liz and Jeffrey won their respective races to claim state titles in Verona on Saturday.
Friends, family and volunteer firefighters turned out to greet them and the Pavilion Volunteer Fire Department escorted them down the remainder of Route 19 to Pavilion.
Prints of these three photos can be purchased by clicking here.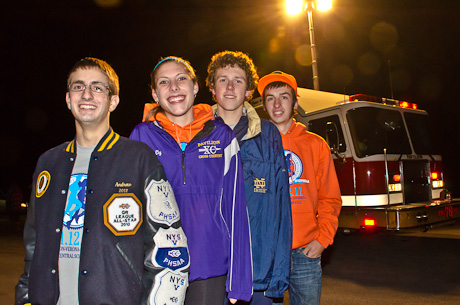 Andrew Fisher, left, Notre Dame; Liz Valento, Pavilion; Jeffery Antolos, Notre Dame; Ethan Richardson, Pavilion.
Photos and captions below submitted by Bare Antolos.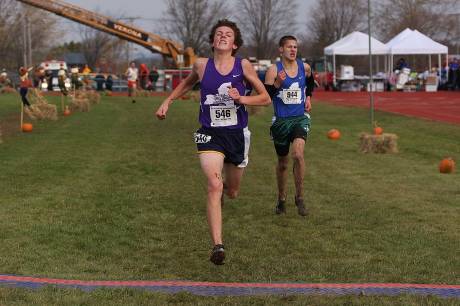 ND's Jeffrey Antolos entered the Vernon-Verona-Sherrill HS football stadium for the final 150 yards of the Class D State Championship race about a half step behind Eldred HS's Alex Campenalla. But as they sprinted to the finish, Jeffrey was able to pass and hold off his opponent to win the first-ever Individual State Championship for Notre Dame HS! Jeffrey's 1.5-second victory was the narrowest margin of the four Boys' State Championship races of the day.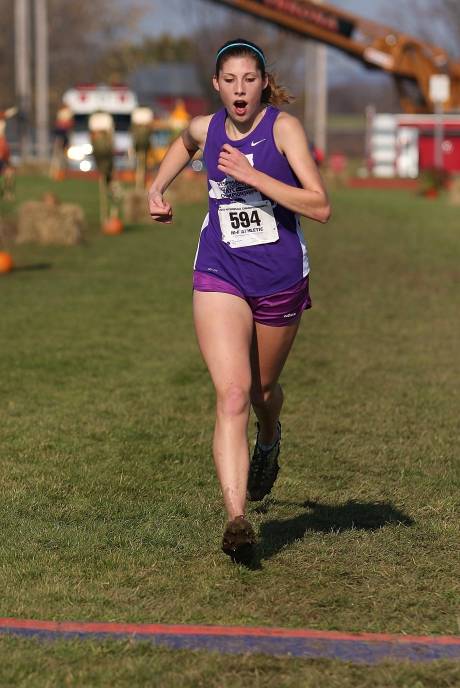 After battling with many runners who pushed her to stay in the lead over the first two miles of the championship race, Liz was able to pull away and win by a 24-second margin to win Pavilion's first-ever individual state championship.
Rain and snow on Friday, combined with seven earlier races, turned many sections of the course into a muddy mess that challenged the girls to maintain their footing and keep up their speed to finish a memorable day in Verona.
More pictures and information after the jump (click on the headline above to see the others).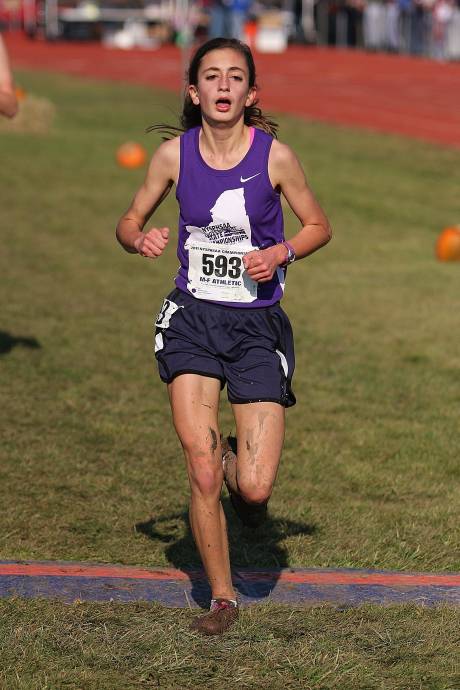 Notre Dame ninth-grader Anna Warner finishes at the Class D State Championship in 22:13 good for a 13th-place finish.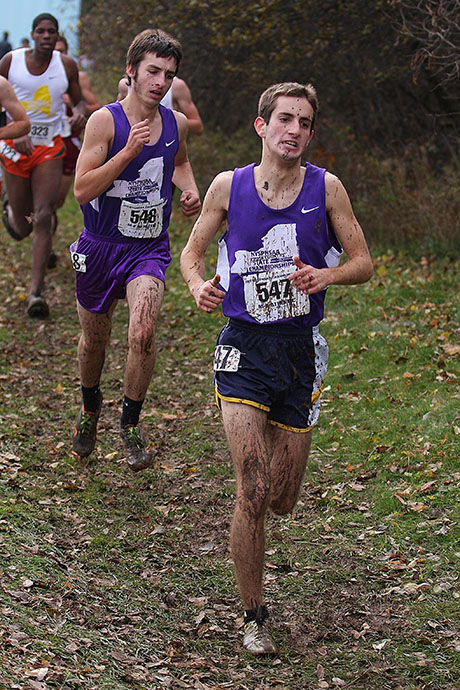 Notre Dame senior Andrew Fischer leads Pavilion's Ethan Richardson during the Class D State Championship race in Verona. Fischer finished 29th with a time of 19:07; Richardson finished 36th in 19:25.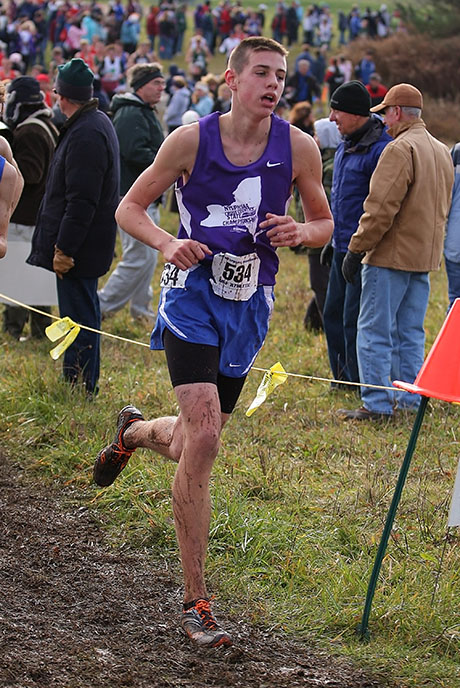 Batavia's Colin Mulcahy competes in the Class B State Championship race. He finished 75th in 18:44.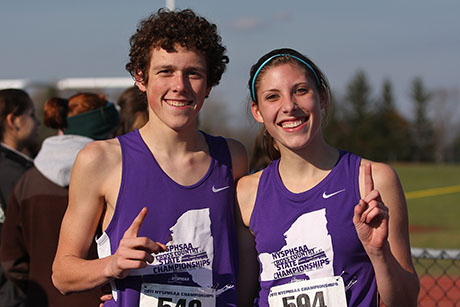 Notre Dame junior Jeffrey Antolos and Pavilion senior Elizabeth Valento show they're number one after both became the first athletes at their respective high schools to ever win individual state championships.
November 13, 2011 - 2:08pm
#1
Congratulations Liz and Jeffrey!
November 13, 2011 - 9:59pm
#2
Our league was well represented at the State Championships. It should also be mentioned that Liz and Ethan Richardson of Pavilion were selected as the Section V Class D Sportmanship winners!!! We have a great league with some high class acting student-athletes. Congrats to you all!!
November 13, 2011 - 10:08pm
#3
We're blessed with some amazing coaches, too. : )