January 4, 2012 - 10:01am
Report: Cyberbullying at local high schools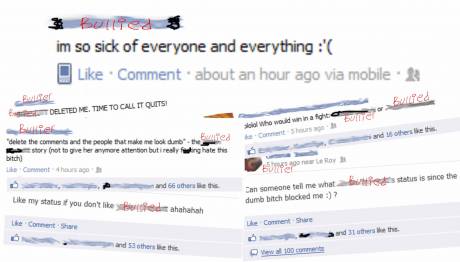 A reader I know and trust to be truthful on sharing something like this, put together the image above and sent it to me. He said it's a collection of Facebook status updates from people being bullied and their tormentors. All of the teenagers involved, he said, are students at Batavia High School. He said knowledge of an increase of cyberbullying against some students at BHS is common knowledge among the students.
One point I want to add: Cyberbullying is a crime.
It can be charged as harassment in the second degree, which is a Class B misdemeanor. Cyberbullies should be reported either by victims or their parents to police. Witnesses can also report crimes, but in most cases it will take a victim who cooperates with the investigation to proceed with criminal charges.
UPDATE 12:34 p.m.:  I received an e-mail from somebody familiar with the situation and said students from mulitple Genesee County high schools are involved and one of the targets is not a student of BHS.  Any confusion on the school involvement is the result of my own misunderstanding of the original e-mail I received.
He sent along the following op-ed with the image.
In the age of social media and increasing technology, every day people see things on the news about cyberbullying and harrassment and many don't realize the seriousness of what is being done. Sometimes they don't think it's happening to anyone they know. Sometimes they don't think its happening to anyone near them. Sometimes people don't realize how serious it can be until it's too late.
Recently, many students in Genesee County school districts have had their Facebook news feeds, filled with cyberbullying of a few students, and the issue is only getting bigger and more widespread. But only a few are standing up for the victims, while more and more join in to bully, and many of the victims, are sitting back without knowing what to do.
"Like this stuff was bad. Worries me... :/" stated one student's Facebook comment. It "turns your stomache. Doesnt matter what someones done noone deserves that to be said," said another when responding about the nature of the cyberbullying posts.
In the most recent and student popularized bullying case (photo collage), there is one student being bullied, and upwards of 30+ cyberbullies making comments directly or indirectly toward her, while hundreds of students have 'Liked' status updates supporting the bullying acts.
According to the nonprofit website www.stopcyberbullying.com:
'Cyberbullying' is when a child, preteen or teen is tormented, threatened, harassed, humiliated, embarrassed or otherwise targeted by another child, preteen or teen using the Internet, interactive and digital technologies or mobile phones. It has to have a minor on both sides, or at least have been instigated by a minor against another minor. Once adults become involved, it is plain and simple cyberharassment or cyberstalking.
Cyberbullying can be done for many reasons. Many times, it's done by someone with insecurities, hoping to boost their social standing. Other times, the power-hungry do it looking to boost their ego. There is also the bullying done as revenge, out of anger, and sometimes students are cyberbullying without even intentionally trying to.
While many students, usually believe their words are harmless, what they say can many times lead to a higher level of misdemeanor cyberharassment charges.
There are two kinds of cyberbullying, direct attacks (messages sent to your kids directly) and cyberbullying by proxy (using others to help cyberbully the victim, either with or without the accomplice's knowledge).
Not only does cyberbullying, include harassment that could bring upon legal issues, but many times, it also turns into defamation. Defamation, which is also known as slander, is the communication of a statement that makes a claim, expressly stated or implied to be factual, that may give an individual a negative image. Many times students often take it to the extent of defamation by making up rumors or doing whatever else it takes to make the bullied look as bad as possible.
Parents need to be the one trusted person kids can go when things go wrong online and offline. Yet they often are the ones kids avoid when things go wrong online. Why? Parents tend to overreact. Most children will avoid telling their parents about a cyberbullying incident fearing they will only make things worse.
Parents also need to understand that a child is just as likely to be a cyberbully as a victim of cyberbullying and often go back and forth between the two roles during one incident. They may not even realize that they are seen as a cyberbully.
The message is simple. Don't write it. Don't send it. For more info on cyberbullying and how to prevent it, visit http://www.stopcyberbullying.org/.
A 2010 Attica graduate, Jesse Kern, that is currently serving in the Army, publicly defended one of the most recent victims on his Facebook page and posted this video and commented: "People just don't get it."
January 4, 2012 - 12:53pm
#6
I am completely against bullying in general, but I cannot resist commenting. I watched this entire thing happened, and like Lucie said, there is a lot more to this story that is not being said. Not all of the kids are from Batavia. And the person who posted the status "I'm so sick of everyone and everything" had just posted a status about an hour earlier calling another girl a slut and tagged the girl in it. This same girl is also known to call many girls fat, ugly, stupid and many other choice words. If that's not bullying, then I don't know what is. Like I said, I do not agree with it. But this girl started a fight over numerous statuses last night by tearing apart several different people and being extremely harsh, and then went back and deleted every mean status she had posted to make it seem like she was purely a victim and had no part in any of it. I know because I watched her do it.