February 25, 2012 - 10:36pm
Early information indicates alleged gambling operation was dealing in significant amounts of cash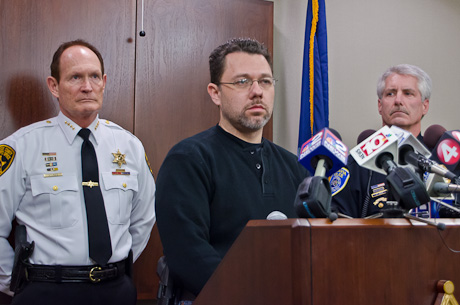 An alleged gambling operation in Batavia that was revealed Friday with the arrest of three city residents may have involved substantial amounts of cash, according to the lead investigator in the case.
Steve Mullen, head of the Local Drug Enforcement Task Force, said during a press conference Friday that gamblers placed bets ranging from $25 to $2,500 -- and possibly more -- on single sporting events.
The scope of the alleged operation may best be illustrated by one gambler already interviewed by investigators who lost, according to Mullen, as much as $10,000 a year on poorly chosen bets.
Computers, phones and every electronic device the three suspects owned that could possibly store data was seized by investigators when four search warrents were executed Thursday.
Local investigators as well as experts from the WNY Regional Computer Forensics Laboratory will comb through the data -- along with paper records -- to try and determine the extent of the operation, identify more clients and other possible suspects.
Investigators are unsure at this point if the data will reveal if there is a "Mr. Big" who could have bankrolled the operation, or if the three suspects started the business and operated it independently.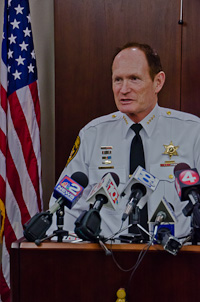 "That's a good question," Mullen said in an interview Saturday. "It's hopefully something we will be able to develop through the electronic data and the phone records, to see if anybody else was involved, if there was anybody that money was going to and coming from. We will certainly examine the written records and the electronic records hoping to determine if there was anybody they answered to or who may have come before them and how long they were involved."
The three suspects are Gregory Phillips, 39, of Belvedere Lane, and Brian Bordinaro, 43, of Prospect Avenue, both city firefighters, along with 41-year-old Lance Engel, of Wade Avenue, who's a chef at the Western New York Veterans Home.
The implication of information revealed by law enforcement officials so far, based on the size of some bets placed and the amount of money lost by some, is that the alleged operation went far beyond Super Bowl pools and March Madness grids.
Mullen said so far it looks like the alleged bookies were accepting wagers on the gambit of sporting events, including professional and college football and basketball, professional baseball and hockey as well as other sporting events.
Given the possible scope of the alleged operation, Phillips, Bordinaro and Engel are facing more than just legal issues. There are also career and tax implications that will arise independent of the criminal investigation.
The two firefighters are also accused of accepting bets through phone calls and text messages they received while on duty.
The Batavia Fire Department is likely to start disciplinary procedures at some point, which could conceivably lead to the loss of careers that spanned close to 20 years on the job for Phillips and Bordinaro.
In New York, public safety employees can retire after 20 years.
If the department decides to pursue disciplinary actions, according to Section 75 of the NYS civil service code, Phillips and Borindaro will be suspended without pay (they are currently suspended with pay). The department will then have 30 days to conduct a hearing on the charges.
The hearing is open to the public, unless Phillips or Bordinaro request that it be closed, and they can be represented by legal counsel.
If the charges are sustained, the two firefighters could be terminated.
The process takes place independently of the criminal legal system.
Engel, who is also part of the state retirement system, has 17 years on the job, according to court records. He would be subject to the same disciplinary process if his supervisors elected to pursue disciplinary action.
On the tax front, it wouldn't be unusual, according to Mullen, for the District Attorney's Office to contact state and federal tax officials if the investigation reveals some amount of undeclared taxable income.
"Certainly, the District Attorney's Office has done that before with investigations," Mullen said. "We would provide them (state and federal officials) with the information they needed to conduct their investigations."
Sheriff Gary Maha said Friday that it is hard to believe the alleged gambling operation wasn't profitable.
"They wouldn't be in the business if they weren't making some money," Maha said.
Mullen said at this point it's hard to estimate just how much money they were making.
"There were days where they were doing $300 or $400 and a couple of days where they were doing thousands of dollars," Mullen said. "I don't even know how to accurately put an average on it right now. I anticipate that by the end of the week, after we've had an opportunity to review the paper records better, we'll have an idea of how much was being wagered on a weekly, a monthly, and for 2011 -- an annual basis."
Given the amounts of money being wagered, Maha said he doesn't agree with the assertion of some people that gambling is a "victimless crime."
"Talk to some of the wives and families who are losing thousands of dollars to a bookie," Maha said. "I think now days a lot of people accept gambling. We have the racetrack and we have lottery and lotto, but still, it's illegal to run a gambling enterprise and profit from it."
When a family man is losing as much as $10,000 a year, there are victims, Mullen said.
"That money comes from somewhere," Mullen said. "They're less able to provide for their families. It's an addiction not unlike drugs."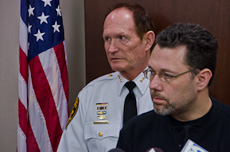 In a bookmaking operation where people are betting -- and often losing thousands of dollars -- a bookie would need to ensure he could collect debts in order to remain profitable.
In the Hollywood legend of backroom sports books, there is usually muscle behind the bookie to ensure debts are paid. Mullen said so far there is no indication that Phillips, Bordinaro nor Engel threatened to break anybody's thumbs.
"We haven't had anybody come forward to volunteer that kind of information," Mullen said. "That's one of the things we will be asking as we identify people on that list, but at this point it's undetermined how they were collecting debts. Hopefully, we'll be able to determine some of that between reviewing data and conducting interviews."
Also as-yet-undetermined is if people outside New York were placing bets with the alleged Batavia bookies.
If such bets are uncovered -- or if it turns out the alleged bookies were keeping out-of-state bank accounts -- the information will be turned over to federal authorities, Mullen said.
For gamblers who might be nervous about the investigation, it's not illegal in New York to place bets.
It's not even against to the law to accept a bet, if you're not profiting from the transaction (taking a rake, charging a vig, etc.). It's only illegal to run a gambling operation as a profit-making enterprise.
"You're really running a business and there's a lot of implications to that -- above and beyond what the New York State penal law says as far as reporting your income or paying traxes or not paying taxes," Mullen said.
At the press conference Friday, Mullen -- a volunteer firefighter with the Town of Batavia -- was clearly concerned about the impact this investigation might have on the City of Batavia Fire Department.
"Through my contact with Chief (Jim) Maxwell and the firefighters there, this is not a distraction to them," Mullen said. "They are an extremely well-trained, professional group of people and it is a well-run department. They are professionals who are above the conduct of any one or two individuals in the department."
As a public service employee, he's also bothered by what he perceives as a break in public trust by the suspects.
"When you accept a job as a public servant, especially in the sector of public safety, I think you're held to a higher standard," Mullen said. "The pay and benefits that go along with those jobs -- jobs that are obviously involved in helping people to protect life and property -- your work focus should be on work and not occupied by illegal activities."
| | | |
| --- | --- | --- |
| | | |
| Gregory Phillips | Brian Bordinaro | Lance Engel |
February 26, 2012 - 1:24pm
#3
Tax evasion should be the concern of many of you who make light of this situation. There is a constant complaint about people not paying their fair share. If guilty, they did not pay their fair share, and if convicted, you will be paying for their keep.
The racinos (casino with an R) and venues that sell lottery tickets do not extend credit to gamblers. The racino or convenient store isn't going to hound you for money you owe. If you over extend yourself then you create a hardship for yourself and the real victims, your family.
Bookies do extend credit when they take your bet over the phone. Stiff them and the consequences could be dire. Once again, you create the hardship and your family suffers.
It is funny that people seem to condone bookies who aren't paying their fair share and blaming the government for shutting them done.