May 1, 2012 - 4:30pm
Well respected mother passes after 12 year cancer battle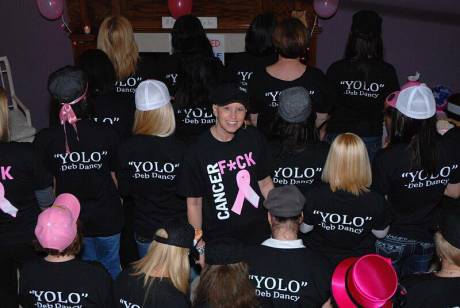 Many people in the Batavia area are mourning after a well-known mother has passed away after a long battle with breast cancer. Forty-four-year-old Deborah J. Dancy, died Monday at her residence on Shepard Road.
Deb, who is the mother of Lindsey Penders and Nicole Dancy of Batavia, was well known in the Batavia area and school district and liked by both students, teachers, parents and athletes.
Deb was very involved with Batavia cheerleading events and became a friend to many in the area throughout her time. 
Many high school and college students, parents and teachers expressed their love for Deb on Facebook late Monday night and all day today.
One posted "You have touched so many hearts with your amazing strength" while another student added "So many hearts are broken today but God gained an amazing angel." Others posted the lone letters "YOLO" meaning "You Only Live Once" -- the phrase that Deb and many close to her used during her long courageous battle. 
Deb was born Nov. 19, 1967 in Warsaw, NY, the daughter of Richard and Donna McCaughey Ellis. Deborah was a graduate of York Central School. She was a secretary for Upstate Auto Transportation Corporation in Batavia.
Visitation will be held at the Rector-Hicks Funeral Home, 111 Main St. in Geneseo on Thursday, May 3, 2012 from 4-8 p.m.
Funeral Services will be held Friday, May 4, 2012 at 10 a.m. at St. Lucy's Church in Retsof with Walt Purtell officiating. Burial will be in Pleasant Valley Cemetery in York. 
Memorials may be made to the Highland Hospital Oncology Unit, 1000 South Ave. Box 67, Rochester, NY 14620.
Divine Chaos Tattoo in Rochester is planning a tattoo benefit for Deb and Pink Gorilla Tees & Graphics has printed T-shirts to benefit the family.
I did not know Deborah, but have been following her story and have friends that did know her. I am sad for her family and friends. Bless her and may she rest in peace.