May 15, 2012 - 3:41pm
Regulators taking a look at 'gypsy' auto dealer that set up shop at BJ's last week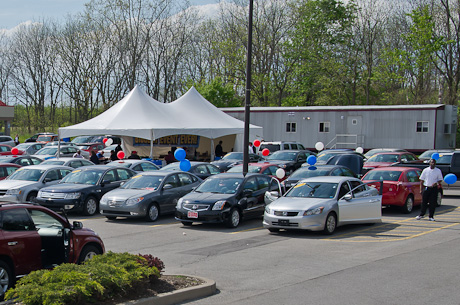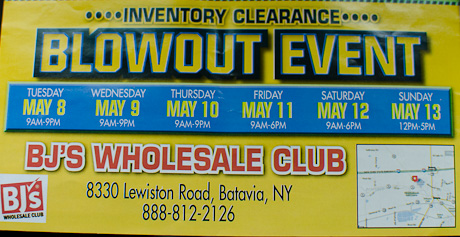 An out-of-town auto dealer, or possibly BJ's Wholesale Club, where a "blowout event" was held in Batavia last week, is under investigation by the NYS Department of Motor Vehicles, according to a spokeswoman for the DMV.
Jackie McGinnis said she can't discuss the details of an "active case."
A spokeswoman for the Attorney General's Office said there are certainly laws governing how such sales are conducted, but referred further inquiries to the DMV, saying she couldn't comment on an active case.
More than a week ago, some 50,000 mail pieces were sent to homes in the GLOW region advertising a "Blowout Event at BJ's Wholesale Club."
The mailer potentially violated NYS law on dealership advertising, since the name of the dealer is not apparently printed on the mailer.
The dealer conducting the sale was reportedly Ideal Nissan out of Rochester.
Ideal has not responded to a request for an interview and a spokeswoman for BJ's referred questions to Ideal.
The eight-page mailer is covered on every page with BJ's logo and mentions BJ's directly or indirectly more than 30 times, but there's no mention we could find of Ideal Nissan or any other dealer.
The DMV would not confirm BJ's dealership status, if any.
Without further information from the DMV, the exact nature of the investigation is unclear, but state law clearly states that dealers must include their dealership name or identification number on advertising pieces.
The promotional piece promises customers the chance to win numerous prizes, including BJ's gift cards. The promoted grand prize was two vehicles or $100,000 cash. The odds of winning the prize are listed at 1 in 5 million.
The contest rules do reference a "dealer or event coordinator," saying the companies are not responsible for any "lost, late, copied or misdirected prize piece" but doesn't say who the dealer or event coordinator is.
Interestingly, the companies behind the promotion have an easy out for awarding any prizes with the rule, "Typos void all prizes," without defining where those typos might or might not appear.
Local dealers said they found the mailer deceptive and noted customers don't usually save any money going through these "gypsy" dealerships.
Temporary dealers have tremendous overhead, local dealers noted, from spending a dollar or more for each of the mailers sent out -- meaning, Ideal Nissan, or its agent, may have spent more than $50,000 promoting its sale -- plus the cost of bringing in commissioned sales reps from all over the country to conduct the sale.
Those kinds of expenses means the gypsy dealer needs to sell a lot of cars or have very high margins on each vehicle sold just to break even.
 "I don't think local dealers are selling vehicles for any more, and probably for less, than what's being sold on a transient or gypsy basis," said Ken Barrett, owner of Barrett Chevrolet and Cadillac. "We want to take care of our customers and our neighbors. It's our responsibility to provide the best price and best value."
Dealers we spoke with were uniformly bothered by the gypsy lot popping up in the Town of Batavia, with some questioning how Ideal Nissan could have received approval for the temporary dealership and all expressing concern that local customers will be buying cars without local sales and service standing behind the products.
"These are traveling sales reps," said Guy Pellegrino of Pellegrino Auto Sales. "They hit you hard to make the deal and say, 'see you later.' You'll never see these guys again."
Greg Strauss, co-owner of Castilone Chrystler Dodge and Jeep said some customers coming into his store, including ones who made a purchase at BJ's, were confused after talking with sales reps at the sale. He said some customers walked away with the impression that Castilone and other local dealers were involved in the sale.
"The sales reps aren't even from New York in most cases," Strauss said. "What concerns me is that people are getting taken advantage of and then they're gone."
Steve Castilone said that while local dealers all believe in free enterprise and don't begrudge fair competition, they are naturally concerned about losing business to gypsy dealers who not only don't provide the same level of service as a local dealer, but also aren't paying local property taxes or otherwise supporting the local community.
"Local dealers benefit the community," Castilone said. "They donate to baseball, to football, to hockey and community events. (The gypsy dealers) don't do anything for the community."
Every dealer we spoke with expressed concern for how customers are treated after the sale from a gypsy dealer.
While a manager at the BJ's lot on Thursday said customers are provided an 800 number to call if they're are problems, and that Ideal has service centers in Buffalo and Rochester, the local dealers questioned whether that's really providing ideal customer service.
"Normally, when a vehicle breaks down, it's never in a situation where a customer says, 'I've got an extra couple of hours to take in the vehicle to have it fixed, if it's drivable at all," Barrett said.
"There's a reason," he added, "there are local dealers -- not so much for the sales aspect of it, but to stand behind the customer and the sale. That's the real value for the customer and the consumer."
Several dealers wondered how the Town of Batavia could have approved the dealership at BJs, but Town Supervisor Greg Post said the hands of the town are pretty much tied in such situations.
Post acknowledged that there was a breakdown in communication in the approval process that led to a temporary use permit not being reviewed by the town planning board, but even if the review had taken place, the permit probably would have been issued.
"I don't have any authority, any way or means not to allow it to happen," Post said.
Post noted that the town's master plan is up for review in six weeks and how to deal with such temporary use permits in the future will be a subject for discussion. He invited any local business owners who want to provide input on such regulations to get involved in the planning process.
I watched this for about ten minutes while my dad was doing some stuff in H&R Block. Looked so sketch. A rather dubious group of gentlemen in white shirts and slacks wandering around the parking lot asking everyone they saw if they wanted to buy a car. Hope no one was ripped off by this.