July 10, 2012 - 6:04pm
Steelheads and salmon provide respite from heat, lack of sleep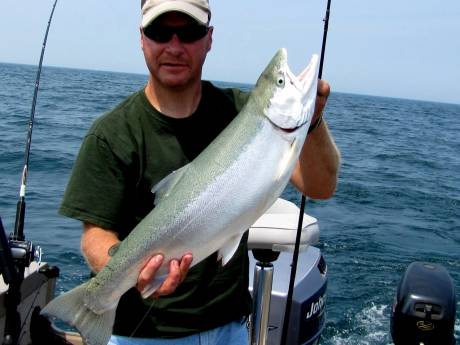 It was last Friday morning and despite the early hour the air temperature was climbing rapidly and the humidity was killer; couple that with the fact I was running on not much more than an hour of sleep and it seemed like I was going to be in for a long day. Doug Harloff, on the other hand, was his usual self -- chipper, upbeat, and eager to get down to the business at hand. I didn't know it then, but my disposition would soon match his and my lack of sleep quickly forgotten.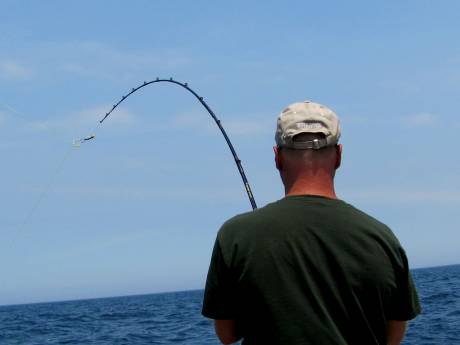 Our original plan called for a trip to Lake Erie to see about putting a dent in the walleye population, but at the last minute Doug suggested we play the waters of Lake Ontario, "steelhead fishin's been good" he said. As tired as I was, I figured it a good idea to be as close to home as possible. I readily agreed and moments later we were on our way to Point Breeze.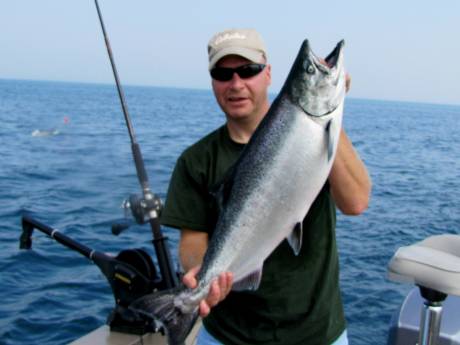 Doug was still setting out lines when the first fish struck, a feisty steelhead rainbow that quickly got the adrenaline flowing. That said, any sleep deprivation dissipated immediately. The sight of a steelhead leaping clear of the water then tailwalking across the surface or the powerful run of a king salmon has a way of rejuvenating even the most bleary-eyed angler. And on this day we would be accommodated by both species. The king salmon pictured above made several line-sizzling runs, taking out nearly 370 feet of line!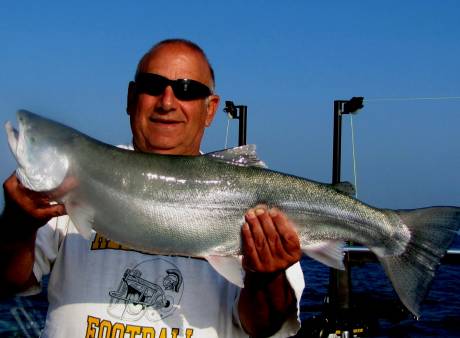 Initially, Doug rigged up two downriggers, a planer board and a flat-line rig with lead core line, the latter being run some 300 feet behind the boat. Each rig produced at least one fish, most of which came from the 60 foot level in waters ranging from 150 - 250 feet deep. Northern King spoons were the hot bait, notably Dream Weaver 42nd's and black NK spoons with silver tape.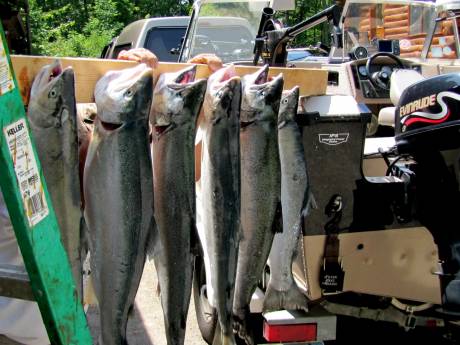 The further out on the lake we went the more we felt the breeze and the air temperature cooled somewhat. For the time being we had left some of the heat and humidity behind. From our position about two miles offshore it was difficult to make out the shoreline shrouded in haze. By the time we were ready to call it a day we had four steelheads and two kings in the hold.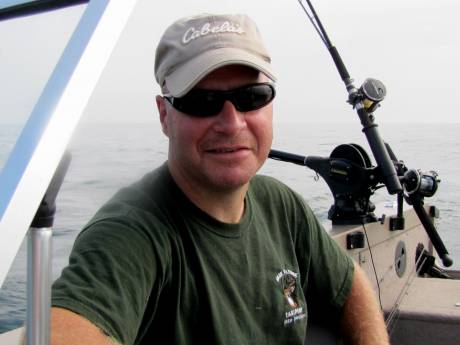 Because Doug lets nothing go to waste whether it be fish, waterfowl, upland game or venison, his recipes for fish and game are vast and varied. And because I would be bringing home an ample supply of fillets, I asked his opinion. Everything he suggested sounded great, the only trouble being, I could only try one recipe at a time. The following evening my wife and I dined on blackened Cajun salmon fillets cooked on the grill. The meal was delicious and the hum of the air conditioner made it all the more enjoyable.
Thanks Doug - it was a great day!
July 11, 2012 - 1:04pm
#6
Great article and pictures, but I would add that it is recommended that no more than 1 meal/month of Chinook salmon, rainbow trout (steelhead are lake-run rainbows), and other species noted in the 2011-2012 Freshwater Fishing Guide published by the DEC, should be eaten from Lake Ontario waters because of pollutants. Also, it is advised that women under 50 years of age and children under 15 should not eat any fish from these waters.