July 10, 2012 - 11:01pm
Angry mother confronts store employees she believes sold bath salts to her son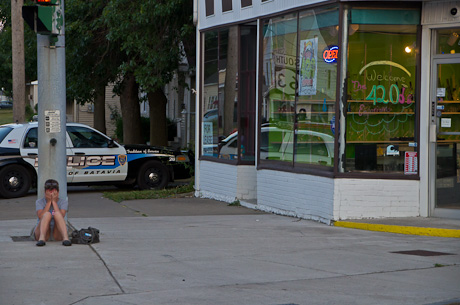 The mother of Jason Lang marched into 420 Emporium, at 400 Ellicott St. Batavia, tonight and demanded that employees sell her "Amped," a brand of bath salts she believes had been sold to her son at the store earlier in the evening.
She said she is trying to make a point -- that the recently opened head shop is killing her son by selling him the chemical substance.
For her trouble, she was issued an appearance ticket for alleged trespassing.
Jason Lang, previously arrested for allegedly making false reports to law enforcement in 9-1-1 calls, was bailed out of jail recently, according to his mother, Nicole Lang, by an employee of Lang's cab company.
"I want them to stop selling to my son because they are killing him right now," Mrs. Lang said.
Sgt. John Peck said that as a parent he sympathizes with Mrs. Lang's position, but said, "she's not going about it the right way."
Mrs. Lang said she went in the store, tried to buy bath salts, was told to leave and then left. Peck said store employees saw and what he observed himself is something different.
According to Peck, Mrs. Lang was told to leave, and did, but then stormed back in, disrupting business transactions in the store. After Peck and Officer Kevin DeFelice arrived on scene, Peck said Mrs. Lang reentered the store and started yelling at employees.
The store manager, Peck said, wanted to press trespass charges.
"We could have charged her with other possible crimes," Peck said. "We charged her with simple trespass."
Simple trespass is equivalent to getting a traffic ticket.
Mrs. Lang said she isn't done protesting against 420 Emporium for allegedly selling bath salts. She and her daughter, Brandi Smith, said they are going to organize a protest picket against the store to raise community awareness about 420 allegedly selling the chemical compounds.
They're hoping, they said, other community members concerned about bath salts in Batavia will join the protest.
The date of the protest will be announced at a later time.
According to Mrs. Lang, a person she encountered coming out of 420 Emporium when she arrived told her he had just purchased Amped in the store and snorted a line in front of her.
"He said he loved it," she said, and then he laughed and walked off.
While Mrs. Lang was out on the sidewalk after one of her previous entries into the store, she said two people -- a former employee of Lang's and a relative of Lang's -- walked past and one of them shoved her into the roadway on Ellicott Street.
She wanted the woman charged with assault, but Peck told her that complaint is still under investigation.
Peck told The Batavian that witnesses who don't know any of the parties involved said Mrs. Lang was trying to prevent the couple from walking down the sidewalk and one of the people simply tried to push her out of the way.
The two people would be interviewed, Peck said, before he reached any conclusions about the case.
Meanwhile, Peck said Batavia PD are dealing with an increasing number of bath salts related calls.
Today, he said, there were at least three bath salt related calls in the city, including one where two people allegedly on bath salts both started thinking the other was mad at the other. One of the people involved ended up going into the street brandishing a knife threatening the other person.
"We've been dealing with it (bath salts) all day," Peck said.
While police were on scene at 420 Emporium, Lang reportedly drove up to a Batavia PD cruiser and told an offer that gang members were out to kill him and drove off.
Brandi Smith said Lang's report to police isn't entirely bath-salt-inspired paranoia. According to Smith, a couple of months ago, Lang turned over to State Police all the Amped he had in his shop -- the former Laughing Buddha -- and that Lang  acquired the supply of Amped from a well known alleged criminal enterprise.
According to Smith, members of the crminal enterprise had laced the Amped with meth, unbeknownst to Lang, and Lang is facing possible criminal charges for selling the substance.
Now, she said, members of the gang are demanding Lang either return the Amped or pay them the money they're owed. 
The Amped in question, she said, is in the custody of State Police.
Finally, both Mrs. Lang and Mr. Lang (Jason's father) expressed displeasure with The Batavian's reporting about Jason Lang. They said The Batavian's stories leave people with the impression that Jason is some sort of "low life."
"Jason is really a good person," Mrs. Lang said. 
She said she wants the community to know he's really a good person just having a problem right now. She said she is worried about his health, but, "he's a really good person."
Photo: Nicole Lang sobs in front of 420 Emporium while awaiting Batavia PD to issue her an appearance ticket for alleged trespassing.
July 11, 2012 - 11:27am
#17
I agree that personal responsibility for one's actions is needed. I don't believe the government or anyone else should have to slap your hands away, or intervene when you are making a bad choice. But the problem lies in the fact that those who make bad choices such as these generally DONT only hurt themselves. There are almost always innocent victims, whether it be family or not. Making the choice to drink and drive, consume drugs, or any other mind-altering activity takes its toll in the form of bad accidents, personal and physical attacks and other sometimes frightening activity. In those cases, we look to law enforcement to protect us from that behavior. It is very unfortunate for all involved, innocent or not. Proactive would be , yes, shutting down any business that feeds that behavior. It's not about someone being a "scum" or "dirtbag",that doesn't help anyone. it's about protecting our community from something that can be so random and quickly get out of control. Taking personal responsibility for one's actions works great, when it is practiced. In the meantime, it is frustrating and scary for law enforcement , and those who don't know what will happen and when.
Pages