August 9, 2012 - 8:31am
Metal spikes reportedly placed at the bottom of slides at Le Roy playground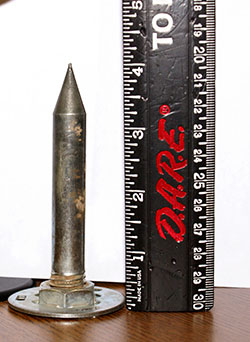 UPDATED 11:01 a.m. with information on origin of the spikes.
Parents who took their children yesterday to the Wildwood Park Playground in Le Roy discovered a potentially dangerous situation when they noticed four-inch metal spikes placed at the bottom of slides.
No children were reported injured by the spikes.
A total of three spikes, partially buried in the sand, were located, according to Le Roy PD.
The spikes appear to be the type used to anchor a rubber plate for a pitcher's mound and appear to have come from a nearby baseball field, Det. John Condidorio said.
"We do believe we know the origin of the spikes," Condidorio said. "We simply don't know who removed them and placed them in such a dangerous location."
The park is located on Munson Street Extension.
The mothers checked the rest of the playground and discovered no additional foreign objects.
Le Roy PD with the assistance of Village of Le Roy DPW used metal detectors to check all of the playgrounds in Le Roy and no other dangerous objects were found.
Investigators are looking for further information related to the incident and anyone with information is asked to call 345-6350.
August 9, 2012 - 8:36am
#1
Someone also placed nails with square metal pieces to ensure the nails sstayed upright in the trail off route 98 in Elba, located next to the yellow Goose. I guess the neighbor doesnt like to hear the go karts and dirt bikes that go down a trail by his house so he is going to get retaliation somehow. Funny thing is he doesnt even own the property!!!