October 9, 2012 - 8:56pm
'Wife Swap' celeb in media spotlight at court appearance on prostitution charge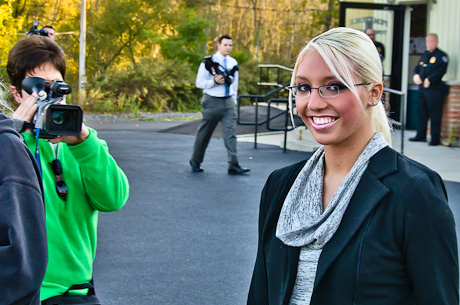 More than a half dozen media outlets turned up in Corfu today for the Pembroke Town Court appearance of Alicia Guastaferro -- the reality TV celebrity who is charged with prostitution and possession of drugs.
As is typical for an arraignment at this stage of the legal process, Guastaferro, 20, of Williamsville, entered a not guilty plea to criminal Impersonation, criminal possession of a controlled substance and prostitution.
Attorney Dan Killelea said prior to his client's next court appearance Dec. 11, he will meet with Assistant District Attorney Robert Zickl and discuss the case. That discussion will help determine what happens next.
At age 16, Guastaferro appeared in the reality TV series "Wife Swap," a series on the Lifetime Network that involves unhappy spouses switching families for a week.
She was arrested Aug. 29 with Rochester attorney James Doyle, 54, who is accused of DWI, refusing a breath test, providing alcohol to a person under age 21 and patronizing a prostitute.
October 9, 2012 - 9:33pm
#1
What do people think about this photograph? I wonder if it's just years of conditioning to be photogenic when facing a camera, or if Guastaferro is actually pleased to be found out as an mid-tier escort.
I'm not sure but what I can say is that, as somebody who's been involved with my own share of embarrassing episodes, there truly is something to be said for keeping one's head up and moving forward through life.