October 10, 2012 - 9:48am
Alleged drunken driver destroys Settler's Restaurant sign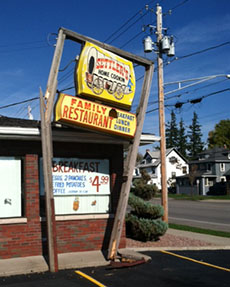 The 28-year-old business sign for Settler's Restaurant was destroyed early this morning by an alleged drunken driver.
Martin F. Jones, 41, of 120 Jackson St., Batavia, allegedly hit the sign at 1:56 a.m.
After Jones reportedly hit the sign, witness reportedly found Jones apparently passed out over the wheel of his car. They pounded on the window of the vehicle and Jones reportedly woke up, put his car in reverse, and pulled out onto West Main Street.
He then allegedly drove to the Hess station at West Main and Oak streets where he allegedly ran into a parked vehicle.
Police say Jones then abandoned the vehicle and left on foot.
He was located a short time later by Deputy Frank Bordonaro and taken into custody.
Jones was charged with felony DWI, refusal to take breath test, two counts of leaving the scene of a property damage accident, unsafe backing, aggravated unlicensed operation, 1st, avoiding an intersection, speed not reasonable and prudent and driving on the sidewalk.
He also had two active arrest warrants for allegedly falsely reporting an incident and disorderly conduct.
Batavia PD reports that Jones had "several" previous DWI convictions and was driving on a revoked license as a result.
Following arraignment in city court, Jones was jailed without bail.
The case was investigated by Lt. Greg Steele, Sgt. Dan Coffey, Officer Eric Bolles and Officer Marc Lawrence.
Settler's co-owner John Spyropoulos said the sign, which has already been removed from the property, is damaged beyond repair and will need to be replaced.
October 10, 2012 - 3:22pm
#7
Move on? That will be my reply to all of your posts from now on, because they are usually as ridiculous as you telling me to move on. So you are entitled to make a comment on here, but no one is allowed to comment back? You are ASSUMING this happened. You have no proof or even reason to suspect that he had a drink, let alone enough to intoxicate himself at Spyropoulos' place. You base it on proximity? You are absurd. There is a liquor store on the other side of Billy Goats. Did they sell him the alcohol? Why don't you attack them too? Sugar Creek is on the other side and sells beer too. Maybe them? You almost always have an angle with all of your comments on here when it comes to who did what and who's responsible. Maybe instead of pretending to be some at home investigator, you should start asking these questions to the proper people, especially since you seem to already have answers before you ask them. And feel free to respond. No need to move on if you don't feel ready to.