November 8, 2012 - 11:49am
Church burglar gets near maximum sentence from Noonan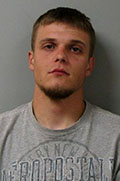 No matter how much John A. Cabrera Jr. wants to prove to the community he's a good person, he's going to have to wait, Judge Robert C. Noonan told the church burglar this morning.
The 22-year-old Cabrera told Noonan he knew had made mistakes and he was sorry for hurting people.
"In your crime spree, you victimized people who are the people who help others in the community," Noonan said. "Nothing but a long prison term would be appropriate. I'm glad you want to turn your life around, but it's going to be a long while before you can do that."
In October, Cabrera admitted to three Class D felonies of burglary and escape.
With a possible maximum sentence of two-and-a-third to seven years on each count, Noonan came close to giving Cabrera the max. Cabrera will serve two to six on all three counts, served consecutively, which means he could be in prison for six to 18 years. If he's released any time before 18 years, the balance of the sentence will be served on parole.
Cabrera's crimes included a burglary of St. Paul's, St. Mary's, Ascension West, First Baptist and St. James.
"I'm very, very sorry for what I did," Cabrera told Noonan. "Looking back on it, it's never worth it to hurt somebody, especially in a community setting like a church. It effects a lot of people. You hurt everybody in the church."
The Oct. 9 plea also satisified any uncharged crimes Cabrera may have committed and in court today Cabrera was ordered to pay restitution to a Town of Batavia women he also stole from.
He will also be required to pay restitution to Genesee County for damage he did to the jail when he escaped.
His total restitution to the churches and the woman total $7,018. Whatever balance remains unpaid upon his release from prison will be paid in $200 monthly installments, Noonan ruled. The churches and the Batavia woman will be paid first, followed by the county, before the insurance companies are paid.
"What I did was wrong," Cabrera told Noonan. "Either way, whether it was churches or somebody else, it was wrong. I'm ready to change, to seek help and to pay my debt and pay restitution. I want to do what is right. I don't want this to linger after I get out. I don't want to be remembered for the bad things I did after I get out. I want to be remembered for doing good because I'm not a bad person. I'm a good person."
District Attorney Lawrence Friedman argued that given the scope of the crimes and the nature of the victims, Cabrera should receive the maximum possible sentence.
Attorney William Harper, representing Cabrera for the Public Defender's Office, asked Noonan to consider that Cabrera never had any contact with law enforcement prior to his early summer crime spree.
He noted that Cabrera had a mental health and drug problem, which he sought help for on his own before the crime spree even started, but never really got help.
There's also an indication, Harper noted, that Cabrera's church burglaries didn't begin until after Cabrera started using bath salts.
"Bath salts wreaked havoc with his ability to deal with his mental health issues and refrain from engaging in criminal activity," Harper said.
Noonan said he was sympathetic to Cabrera's mental health issues, but the issues were not of the severity or nature that he couldn't recognize what he was doing was wrong. Presentence reports, Noonan said -- not withstanding Cabrera's own statements in court -- indicate that Cabrera believes the normal rules of society do not apply to him.
November 8, 2012 - 1:31pm
#3
So a 21 year old guy that broke into a few churches and managed to escape from jail, but not ACTUALLY escape gets up to 18 years in prison and has to pay restitution, but 41 year old James L. Little, the guy that admitted to molesting 2 kids get a 15 years sentence for the first kid and 3.5 years for the second kid. This has me pondering the sanity of the justice system.
I'm sure that James Little deserves a longer sentence and John Cabrera should be able to do 3 years in a work camp. He's 21 and way too young to be serving 18 years. What he did is wrong but it pales in comparison to molesting 2 kids and his sentence is essentially the same as a child molester's.
I remember what it was like to be a wild boy at 21 and I remember what it was like to be a man at 39 (18 years later). The two ages are light years apart in how they think and behave.
Was he sentenced so severely because he broke into churches?