November 27, 2012 - 6:52pm
Dollar General store on East Main Street in Batavia just robbed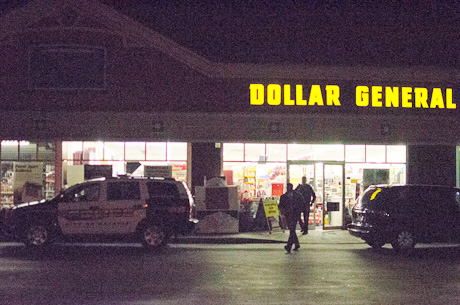 A robbery just occurred at the Dollar General store on East Main Street in Batavia. The suspect fled on foot, heading east of the store toward Harvester Avenue. The suspect is described as a black male, 6-feet tall, about 240 pounds, wearing a camel-colored jacket. Multiple police units are responding to the store and the area. The suspect "pointed a pocket at (the clerk), indicating he had a gun."
UPDATE 6:53 p.m.: The suspect is further described as having a mustache, a small Afro hairstyle, and also wearing jeans.
UPDATE 7:55 p.m. (by Howard): On the scene, Sgt. John Peck said the suspect is described as a possible Hispanic male, medium skin tone, probably in his 20s, wearing a hooded Carhartt-type jacket.
The suspect handed the clerk a note "threatening harm" and pointed to his hip indicating a gun possibly in his jacket pocket or under his coat.
The clerk complied with the demands of the note and opened the drawer. The man reached in and grabbed all of the cash out of the drawer.
Peck said detectives are reviewing video footage from the store's surveillance cameras.
It's possible the suspect has been in the store before.
The suspect was last seen running toward Pizza Hut.
"As far as we know it was just him," Peck said.
Local law enforcement responded quickly after the robbery was reported, Peck said. Besides three Batavia PD patrols, the State Police and the Sheriff's Office had cars in the area.
"By sheer luck, we were very, very near," Peck said. "We don't think any vehicle was involved. We saturated the area and turned up nothing so far."
November 27, 2012 - 8:42pm
#3
"By shear luck, we were very, very near," - and that luck produced what results?
When was the last time u met a 6' tall 240 lb hispanic male?
If there was video surveillance, what's taking so long to review it and make an identification?
At least no one was hurt.