February 26, 2013 - 4:58pm
For the third time, Niagara County cop enters not guilty plea in alleged Darian Lake assault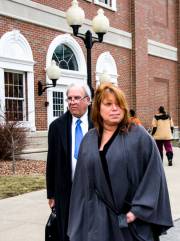 Each time Niagara Falls police officer  Kelly Alcorn has appeared in court, it's been to answer to a new charge stemming from the same alleged incident Aug. 25 at the Darien Lake Performing Arts Center.
Each time she's entered a not guilty plea.
"And we mean it," said her attorney Norman Effman after her appearance in Genesee County Court this afternoon.
Alcorn is accused of getting into a scuffle with another patron inside the ladies' room at the Jason Aldean concert.
According to an indictment handed down by the Genesee County Grand Jury, Alcorn allegedly slammed the victim's head against a cinder block wall.
Alcorn was originally charged with misdemeanor harassment, but the alleged victim contacted Buffalo media to complain that she had been much more seriously injured and that she thought Alcorn should face a more serious charge.
A few weeks later, Genesee's District Attorney's Office upgraded the charge to third-degree assault after reportedly receiving medical reports, and then when the case was presented to the grand jury, the charge became assault in the second degree.
As a 20-year veteran of law enforcement, a felony conviction could end her career.
Effman confirmed today that Alcorn is currently suspended without pay.
During bail review with Noonan, Effman said that Alcorn is divorced, lives in Grand Island and shares custody of her two teenage children with her ex-husband.
She was released on her own recognizance, as she has been since her initial arrest.
The case reached this stage, Effman said, largely because of pressure exerted by the alleged victim, who has pushed the case through the media.
Effman said that any time a defense attorney takes on a case, he starts preparing for trial, but in the Alcorn case, Effman said he thinks a trial is likely, rather than a plea deal.
"She has a positive history in law enforcement," Effman said. "She has a positive history as a citizen. All of that will play into how we defend the case."
February 26, 2013 - 5:22pm
#1
She doesnt know after 20 years you cant get away with that stuff unless you have your uniform on?