September 15, 2013 - 11:03pm
Local businessman killed in skid loader accident at his home in Corfu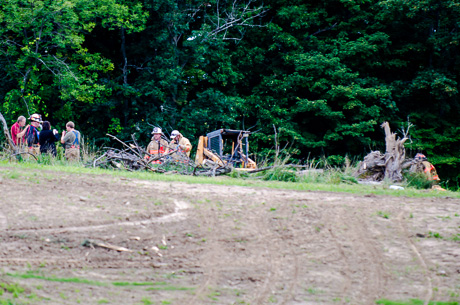 State Police are continuing to investigate the apparent accidental death of Kevin Doktor, of Boyce Road, Corfu, late this afternoon.
According to what East Pembroke firefighters were told when they arrived on scene, Doktor was operating a CASE Model 1840 skid loader when it became stuck, said Stephen Smelski, assistant chief for East Pembroke.
Doktor's son went to get a piece of equipment at Doktor's nearby house to pull it out and returned to the skid loader with a neighbor.
The 54-year-old Doktor was reportedly caught between the loader's bucket and the front of the seat area of the loader.
Smelski said it appeared Doktor was either trying to repair something or get back into the skid loader when the bucket fell.
There should be safety devices on the loader to prevent such accidents said a neighbor who works regularly with skid loaders. It's not known at this time why such a safety device might have failed.
At this stage of the investigation, State Police are not discussing any details of the incident, but it is being investigated as an accident.
Smelski said when firefighters arrived, they tried to lift the bucket, but the apparent equipment malfunction prevented them from moving it. Even if they had been able to move it, Doktor's injuries were too severe for first responders to have saved him, Smelski said.
Doktor was well known in the Corfu and East Pembroke communities. He owned Doktor's Welding on Route 5.
September 16, 2013 - 6:55am
#1
RIP Kevin, Pembroke Central - Class of 1977. My condolences to his family
September 16, 2013 - 7:02am
#2
September 16, 2013 - 12:50pm
#3
Rest in peace, brother...
Completely shocked when I heard about it...