October 4, 2013 - 10:54am
Armed robbery at Tops in Le Roy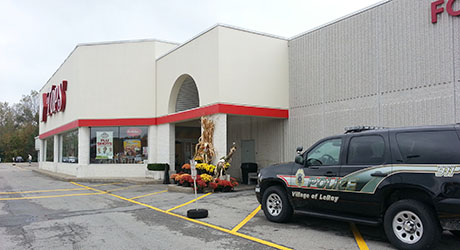 Photo courtesy of Alecia Kaus.
An armed robbery just occurred at Tops Market in Le Roy, located at 128 W. Main St. A black male wearing glasses, tan pants and black windbreaker allegedly displayed a handgun at the service desk, took an unknown amount of cash, then fled on foot toward the Sunoco Gas Station. Police on scene say no one matching that description could be found by the gas station. Six units are responding.
UPDATE 10:59 a.m.: "He ran east to the back of the 'pod mall,' came around front, then ran westbound from the pod mall," clarifies an officer. Another says "we haven't seen him to this point, it's likely he got into a vehicle." They are going to deploy a State Police helicopter, if available.
UPDATE 11:02 a.m.: The helicopter is going airborne. The Tops incident is a county-wide alert.
UPDATE 11:15 a.m.:  The suspect is further described as a being in his 30s, wearing a black hoodie, black sunglasses, tan brown pants, and it is confirmed he did display a pistol to the cashier.
UPDATE 11:19 a.m.: The Le Roy schools were notified about the situation.
UPDATE 11:27 a.m.: Police have been informed of a possible suspect vehicle that was seen circling in the parking lot of the Napa Auto Parts store (7180 W. Main St.) around the time of the robbery. It's a white Mitsubishi Diamante-style mid-size sedan driven by a white male who had a black passenger. In another development, police say they've determined the last place the suspect fled on foot and will begin tracking from that juncture.
UPDATE 12:11 p.m.: Five minutes ago, the State Helicopter went back in service after scouring the area around Tops for the suspect without locating him. There is a K-9 Unit trying to track the suspect, although it sounds as if police believe he more likely got a ride.
UPDATE 12:23 p.m.: A white male and black male have been spotted by a caller to dispatch walking out of the woods off Route 19 and Lake Street near Bob Adams Automotive.
UPDATE 12:26 p.m.: The pair are said to be walking "westbound on the south branch of the railroad tracks."
UPDATE 12:28 p.m.: There's some confusion since the caller reported seeing them walking eastbound.
UPDATE 12:33 p.m.: Police caught up with the pair. Both men are white.
UPDATE 1:03 p.m.: State units are back in service. The investigation continues.
October 4, 2013 - 7:56pm
#3
It's sad to see that crimes that you expect to occur in Buffalo and Rochester, are beginning to spill over into our local, smaller rural towns.
That is what the future holds for all the small towns in this state, we moved here in 1989 from Monroe County when the good OLE State of NY took out house away by Imminent Domain & we were forced to move out. So, we came to Genesee County that was a lot nicer, & friendlier & cheaper. They had a 7% tax rate, you could register your vehicles here & save $20 a year over being in Monroe County, you could ask directions & get the whole history of the area you would be going to by the local farmer that was always ready, willing, & able to help you out anytime at all, & ALL the people were a LOT NICER then, anywhere else in the state! And everyone waved hello to you as you drove past their house or farms. But, then it slowly changed & the riff-raff from the bigger cites decided that a small town was a nice place to live & they paid more for welfare & other mandated public assistant programs & pretty soon the druggies & no accounts moved in because they were harassed in the big cities & not in Genesee County! So now it is just as bad here, if not worse, that in the big cities & there is nothing anyone can do to curb any of the foolish spending of increased taxpayers bucks & such unless you move away when you retire & live in an out of the way place that no one else wants to be bothered living in, which is where I will be moving to for the winter & paying a lot less to live with nicer people than here in a typical "used to be nice town" that is just as bad as a big city has always been.... IF I ever win the powerball, I'd buy my own little island in the south pacific & watch the world go belly up & still be happy that I took all my friends & family with me.. :)