October 23, 2013 - 9:17pm
Appearance at GCC by winner of Project Runway a big hit with GCC fashion students
posted by
Howard B. Owens
in
GCC
.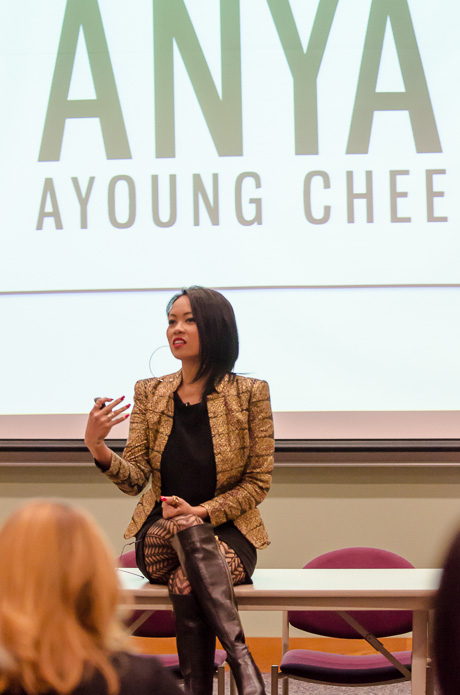 GCC's fashion students were thrilled today to meet Anya Ayoung-Chee, winner of Project Runway Season 9.
So excited, many of them shared their eagerness on Twitter while waiting for the Project Runway Season 9 winner to arrive on campus.
Malgosia Blaszczak: "Oh today is gonna be a blast! Anya Ayoung-chee is in @sunygcc can't wait to meet her!"
Kate Buduson: "So excited to meet @AnyadeRogue she's such an inspiration to all the fashion students here at @sunygcc !"
Ayoung-Chee, who represented Trinidad and Tobago in the Miss Universe pageant, shared the experiences she went through before entering Project Runway that helped her win on the reality series.
GCC has a highly regarded fashion business program that includes study options in fashion merchandising management, fashion design, event planning, and e-commerce.
"Our solid reputation helps us attract people like Anya to talk to our students," said Professor Rick Dudkowski. "We're very excited to have her here, and we know our students will be inspired by her."
UPDATE: Jackie Vetrano created a Storify page covering Ayoung-Chee appearance at GCC.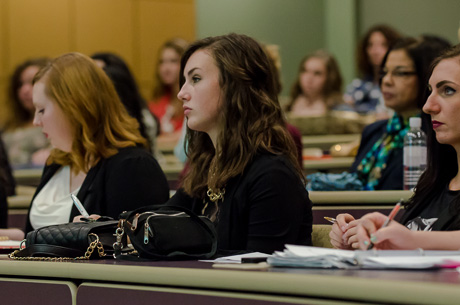 October 24, 2013 - 11:46am
#3
I think they seem like they are listening intently because they are serious about their career pursuit. The thrill was the anticipation. Now they want to glean all they can from this talented lady.