January 17, 2014 - 5:53pm
Caledonia resident accused of several thefts from vehicles in Oakfield over the past year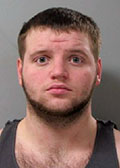 Dalton Long
Investigators believe they have found the man responsible a series of thefts from vehicles in the Village of Oakfield over the past 12 months with the arrest of Dalton A. Long, 18, from Caledonia.
Long was allegedly found in possession of numerous items reported stolen to the Genesee County Sheriff's Office.
The items recovered date back to the first reported theft in the series in January 2013.
Long is charged with grand larceny, 4th, criminal possession of stolen property, 4th, one count of identity theft, 2nd, one count of petit larceny and six counts of criminal possession of stolen property.
Following arraignment in Oakfield Town Court, Long was jailed on $15,000 bail.
The investigation was conducted by Deputy Brian Thompson with assistance from Deputy Bradley Mazure and Youth Officer Timothy Wescott.
The investigation is continuing  and additional charges are pending.
January 18, 2014 - 5:09am
#1
Sorry ladies, he's taken. Just guessing....quite a catch.
January 18, 2014 - 12:30pm
#2
Thanks for your comment, Barb.
Precious!!
January 21, 2014 - 12:13am
#3
Lol what ythats your man barb? I'm lost lol or are you referring that this corrupt county will most likely pin it all on him unless he was a mancuso or someone else around here that is rich lol...you do know its guilty till proven innocent...clealry its not that way around here in hick town