May 8, 2014 - 4:41pm
Local Landmark: The Machpelah Chapel in Le Roy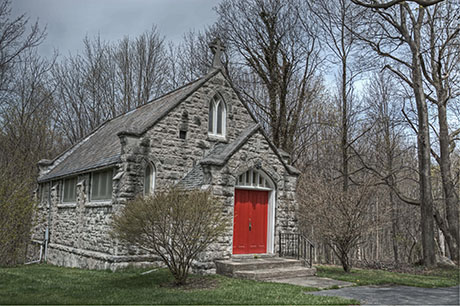 Village of Le Roy resident Ryan Crossett sent in these pictures on this information on the Machpelah Chapel in the Machpelah Cemetery on North Street, and it's pretty interesting.
The chapel was designed by architect Robert Fayfield of Buffalo and was built in 1910-11 of local stone by masons Charles Sherman and Ray Peck. The total cost was $5,126.75
It was renovated in 1950 through a gift from Helen Woodward Rivas.
Further renovations were made in 1953 through a gift by Rev. Raymond Calkins in memory of his wife's family, the Lathrops. A stained-glass window was installed in the west wall at that time
The present stained-glass window was installed in 1959 by Rev. Calkins because he was displeased with the previous window. This window was crafted by the Willet Stained Glass Studio in Philadelphia, and is known as the "Lathop Window."
The theme of the window is taken from the Gospel of Matthew 28:1-6, and the description is as follows:
"It represents Christ's victory over death, bearing aloft the banner of the Church Triumphant. His tri-radiant nimbus signifies His Divinity, and the rayed vesica His glory. The two guards are turned away in wonder and awe at the miracle."
The Chapel seats 60 and is available for religious ceremonies such as weddings and funerals.
The Chapel is maintained by a bequest from Rev. Raymond Calkins. Recent projects have included: painting of window frames and doors; repairs to the slate roof; painting of masonry walls and parts of the foundation; replacement of the ceiling fan; repairs to the chimney; replacement of the north roof soffit; and replacement of the front door frame.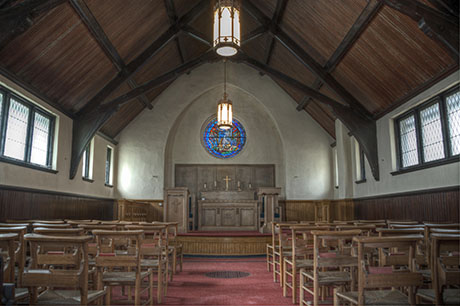 I've walked past that building dozens of times and had no idea it was a chapel with seating or that it could hold so many people. I'm not sure that I would want to get married in a cemetery though.